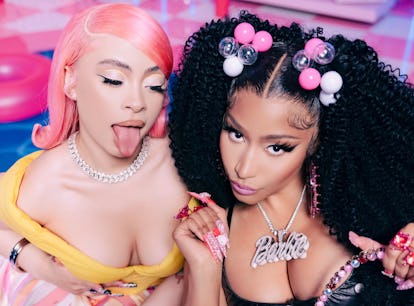 It's Nicki Minaj & Ice Spice's "Barbie World" & We're Just Living In It
You might recognize the iconic sample in this collab.
Alex "Grizz" Loucas
Similar to the color pink, this summer belongs to Barbie. And if the Margot Robbie-led movie about the famed doll wasn't proof enough, then Nicki Minaj and Ice Spice's latest duet will do the trick. On June 23, the rappers released the music video for their latest collaboration, "Barbie World." The track is a bar-heavy tribute to the plastic muse, and the two tapped *the* original Barbie admirers to make this moment more legendary.
Beginning with a pulsing drill beat, the muffled melody of Aqua's 1997 hit "Barbie Girl" can be heard in the background. This throwback hit is about as iconic as Barbie herself, and the Europop group is surprised it's still popular nearly 25 years after its release. In an interview with LGBTQ magazine Shangay, Aqua (comprised of singers Lene Nystrøm and René Dif and keyboard player Søren Rasted) spoke about reimagining "Barbie Girl" in Ice Spice and Minaj's new single.
"I'm so proud. She has a life of her own. It's a dream for any artist to have a song like this," Nystrøm said. Dif and Rasted echoed a similar thought. "It is a gift that continues to give us happiness, and we are delighted that ["Barbie Girl"] has a new life for the younger generations to enjoy."
"Barbie World" — which appears on the highly-anticipated Barbie soundtrack — is certainly infectious, so much so it might become fans' personality trait for the summer. In the Hannah Lux Davis-directed video, Ice Spice and Minaj are the main characters of this pink-hued universe. Set at the Barbie Dreamhouse, the visual begins with two young girls playing with doll versions of the rappers. They then come to life á la Tyra Banks' Life Size, and begin trading clever one-liners about the plastic life.
"And I'm bad like the Barbie / I'm a doll but I still wanna party / Pink 'Vette like I'm ready to bend / I'm a ten, so I pull in a Ken," Ice Spice raps, the camera occasionally showing Ken-like background dancers parading through the home.
This duet feels perfect for Minaj, who has continuously imagined herself in the Barbie universe over the years. One of her iconic alter-egos is Harajuku Barbie and she refers to her enthusiastic fanbase as the 'Barbz.' Also, in 2018, she released her Queen single — well, diss track — "Barbie Dreams." No, she didn't read the plastic character for filth on it, but she lightheartedly aimed at other rappers she's either worked with or alleged to have dated in the past.
"Barbie World" marks Ice Spice and Minaj's second collaboration. The two emcees previously worked together on a remix of Ice Spice's "Princess Diana," which appeared on her 2022 Like EP. By the sound of these two collabs, it's clear the rappers know how to create a hit.
Barbie: The Album releases on July 21.