Life In Plastic, It's Fantastic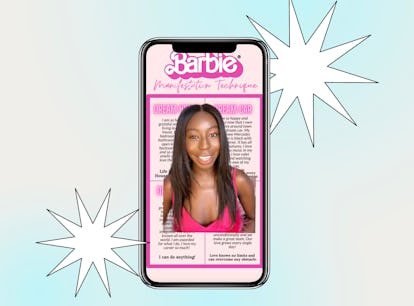 Attract Your DreamHouse With TikTok's Barbie Manifestation Method
Because the iconic doll really has it all.
Barbie has it all, from the Malibu DreamHouse to a supportive partner who brings the Kenergy. She's even excelled at every job she's ever had, which includes doctor, astronaut, and even president, all while taking her hot pink Barbiecore ride to work. When it comes to Barbie, life really is fantastic. She's who little kids (and 20-year-old teenagers) aspire to be when they grow, as well as the inspiration behind TikTok's Barbie manifestation technique.
Manifesting is the idea that you have the power to make your dreams a reality by believing they'll come true, and using tools like affirmations and journaling. According to TikToker Candice Nikeia (@candicenikeia), the Barbie manifestation technique uses everyone's favorite pink-loving doll as the blueprint to map out your ideal life. The technique is broken down into two steps. The first requires you to jot down your goals for the perfect house, partner, job, and car. Nikeia says this technique is "powerful," so if you feel like you're currently stuck in a rut or are just inspired by the Barbie movie starring Margot Robbie, here's how to do the Barbie manifestation technique on TikTok.
Write Down Your Dream Barbie Life
Like many manifestation techniques, the Barbie trend on TikTok starts by writing down your goals. Take a piece of paper or break out your manifestation journal and draw four squares on the page. In each of the squares, you'll write either Dream House, Dream Car, Dream Job, and Dream Love. These are the four areas of your life you'll be working towards in order to get closer to becoming your own Barbie. Under each category, write "I am so happy and grateful now that I" followed by your dreams for each one. For example, Nikeia writes everything her DreamHouse would have, like four bedrooms, an open kitchen, and a pool. Be as specific as possible, while writing everything as if you already have it.
Then, after each writing prompt, you'll want to add a Barbie quote as an affirmation. For your dream job, use the affirmation "I can do anything," and for your dream love, write something like "love knows no limits and can overcome any obstacle." You may even find there's another quote that fits better with your dreams after seeing the Barbie movie. Either way, keep your paper close to you for the next step in the Barbie manifestation technique.
Use The Adventure Technique To Take Your Barbie Dreams To The Next Level
Nikeia says after writing down your dream house, car, job, and love, you'll want to use Barbie's adventure technique to visualize those dreams even further. Instead of just one piece of paper, you'll need four — a page per dream. On each page, list off affirmations that actively describe each category. She uses the home has her first example, and says to write down things you'll do in your DreamHouse. This can include having dinner parties with your friends, hosting movie nights, and being able to create cooking videos for social media in your Insta-worthy kitchen.
Make your other lists active as well by writing down things you'll do in your dream car, opportunities you'll get from your dream job, and things you'll want to do with your dream partner. Nikeia then says you can use these pieces of paper for any Barbie manifestation rituals you want to practice. Some manifestation rituals include guided meditations or practicing candle magic, but one of the easiest things to do is just speak your Barbie life into existence. By repeating any of the affirmations you've written down, you can start to put those manifestations out into the universe. And hopefully, very soon, you'll be living in your very own Barbie world!