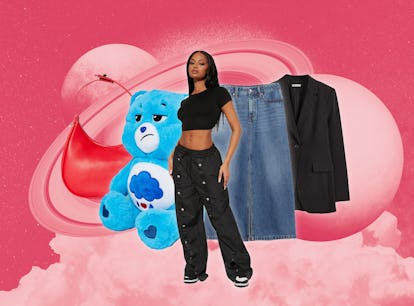 The Fall 2023 Aesthetic For Your Zodiac Sign Will Upgrade Your Wardrobe
We may receive a portion of sales if you purchase a product through a link in this article.
Those post-summer blues can be *real*. School is back in session, long weekends are over, and free time... pshh. One thing that doesn't have to be all doom and gloom, though: your style. As the weather starts to cool down, your sense of fashion goes through a transformation of its own, paving the way for long sleeves, heavier garments, and overall layers on layers on layers. While you could change up your vibe depending on the day (and, of course, temp), there's only one fall 2023 aesthetic that's meant to be the go-to for your zodiac sign.
Similarly to how Taylor Swift stays in one lane ahead of different albums and eras, your zodiac sign has one style that's meant to dominate your wardrobe. Since I'm an astrologer, I tend to look to where Venus — planet of fashion, beauty, and aesthetics — is transiting through to determine collective themes of inspo in any given season. To help give you a more detailed breakdown of what to wear this fall, I enlisted the help of Nany Ramirez, Miami-based fashion blogger and founder of Nany's Klozet. Below, you'll find our advice and recommendations for how to build your ideal autumn look, based on astrology.
Aries Zodiac Signs (March 21-April 19): Bold & Baddie
Aries are fearless trendsetters who would much rather make a bold statement than fit in with the crowd. (Lady Gaga, Mariah Carey, Sarah Jessica Parker — all Aries.) So if you're feeling the renaissance of Y2K fashion, now would be the perfect time to rock bold and baddie attire — like leather low-rise, lace-up pants. "I'm seeing a lot of low-waisted bottoms" making a comeback this season, says Ramirez.
Since the cosmos will place greater emphasis on your relationships throughout the fall season, you'll be more receptive to personal and professional opportunities at this time. For the former, you can pair those leather pants with a long-sleeve bodysuit; for the latter, you can balance out the baddie with the bold via a vibrant power blazer.
Taurus Zodiac Signs (April 20-May 20): Cottagecore
Inspired by rustic tones that resemble your earth element, cottagecore is the perfect combo of cozy and classic; think delicate florals and puffy dresses. If you're feeling a bit more flirty, you can always accessorize your flowy silhouette with statement bow earrings.
This season will also bring harmony to your passion projects and romantic affairs. To incorporate cottagecore into either of those events, Ramirez says, "It's all in the details and the quality." So if you've got the dress and the statement earrings, a pair of vintage suede lace-up boots could be what completes your look. Taylor Swift's folklore era is quaking.
Gemini Zodiac Signs (May 21-June 20): Coastal Cowgirl
You're as versatile as you are intellectually stimulating. That's why you should indulge your curiosities with a fall-ified version of the coastal cowgirl aesthetic, featuring an array of rich, vibrant accents and denim that surpasses those Daisy Dukes you wore in the spring/summer. A long denim skirt could really set the tone for your new aesthetic, especially since Ramirez is "seeing a lot of maxi skirt silhouettes" this season.
With fall beautifying your artistic expression and day-to-day lifestyle, there's no better time to embrace your individual freedom, specifically when it comes to your sense of style. Accessorizing with an earth-toned, wide-brimmed hat would be one way to exercise this freedom, while also emphasizing the cowgirl feel.
Cancer Zodiac Signs (June 21-July 22): Fairycore
Fairycore is inspired by magical details and dreamy atmospheres. The only thing more enchanting than the whimsical aesthetic? Water sign energy — and you just so happen to be the first water sign in the zodiac. In addition to your overflowing empathy and intuition, you're also ruled by the moon, an ancient symbol of the divine feminine. So grab a corset and pair it with a flowy skirt and your favorite crystal jewelry, because this fairy always has to be ready to (look) fly.
If corsets don't fit your comfort level, Ramirez says "Y2K-inspired sheerness" will be another delicate trend this fall, so you can always opt for a sheer layering top or slip dress. Either way, the cosmos support your fantasies this fall. Use your imagination.
Leo Zodiac Signs (July 23-Aug. 22): Rom-Com Core
Similar to your majestic planetary ruler, the sun, your sparkling presence can light up the entire room and inspire those around you in the process. You're playful, passionate, and theatrical, which means you have no problem turning on the dramatiques when necessary, making rom-com core the ideal style for you this season.
With your fall aesthetic being inspired by '00s-era romantic comedies like 13 Going on 30 and How to Lose a Guy in 10 Days, this gives you the perfect opportunity to channel your main character energy. A faux fur cardigan can make a great statement piece, especially for those trying to emulate Sharpay Evans. To zhuzh it up, you can accessorize with a pair of sunnies and/or chunky shoes, which Ramirez says will be a go-to in the coming months.
Virgo Zodiac Signs (Aug. 23-Sept. 22): Dark Academia
Although the fall begins at the end of your birthday season, it still fits you better than your favorite sweater. You're practical, poised, and well-groomed; similarly, dark academia is posh, literary, and mysterious. Talk about the perfect match. If nothing else, this gives you a great excuse to invest in a pair of classic loafers.
Dark academia can also open up your wardrobe to "a lot of tweed [and] neutral colors," says Ramirez. The woolen fabric exudes dark and mysterious, so a tweed jacket could be the staple piece you need to transform your look in a subtle and traditional way. "It's about being practical and classic," she adds.
Libra Zodiac Signs (Sept. 23-Oct. 22): Barbiecore
Barbie is the movie of the year. Even before the Margot Robbie-led film hit theaters, celebs were spotted wearing her character's signature color for the better part of 2023. Since fall marks the beginning of your solar season, why not dress for the celebration like the star that you are? Barbiecore is, after all, all about glitz, glamour, and a lot of pink — three things your charming and graceful self can appreciate.
If Elle Woods' look is the one you hope to dupe, wearing a hot pink leather coat with a pair of black boots is one way to go. If you're looking for a more toned-down version, there are plenty of alternatives that are less loud. "As long as it makes you happy and you're comfortable, wear it and own it," says Ramirez. It's your season and you make the rules.
Scorpio Zodiac Signs (Oct. 23-Nov. 21): Gothcore
Scorpios normally have a lot of black in their wardrobes, so channeling the gothcore aesthetic — which Ramirez says is a combination of black, burgundy, and "a late '90s touch" — shouldn't be hard. It's very much giving Wednesday Addams.
Ramirez herself is a Scorpio sun, and often associates her sign with the "whimsical goth aesthetic." So, regardless of whether you're a fan of the Jenna Ortega-led Netflix series, Ramirez suggests "sheer elements, maxi skirts, chokers, leather, velvet, and dark fall florals" for your peak autumn look.
Sagittarius Zodiac Signs (Nov. 22-Dec. 21): Tomato Girl
You're the life of the party, which is why this summer's go-to food-inspired aesthetic will suit you perfectly, even in the cooler months. Ravishing shades of red are dominating everything from the runway to TikTok, so why not paint the town tomato? You can start with a red leather dress, and layer it with a coat when temperatures start to drop.
Red is already a bold statement, but you should feel free to experiment further with "mismatched fashion" and surprise elements. Ramirez's suggestion for you this fall: "small shoulder bags (moon or baguette-ish)."
Capricorn Zodiac Signs (Dec. 22-Jan. 19): Quiet Luxury
To say you exude *boss babe* energy would be an understatement. You're ruled by taskmaster Saturn, so your sophisticated demeanor is already a part of your cosmic trademark. The quiet luxury aesthetic is quite similar to your Saturnian essence — it's classic, neutral, and timeless. If you're not already rocking the basic black blazer, now would be the time to start.
You can also accessorize this look with autumn's chicest accessory, a headband, like all the Cool Girls™ are wearing. (Looking at you, Sofia Richie and Hailey Bieber.) The key to stealth wealth is good tailoring and, according to Ramirez, "pieces that will live in your wardrobe for decades."
Aquarius Zodiac Signs (Jan. 20-Feb. 18): Techwear
The future is here. Governed by techie-loving Uranus, the planet of breakthroughs, innovation, and unexpected changes, you're often celebrated for your sparkling intellect and futuristic mind. Similar to your digital dreams, the techwear aesthetic is streetwear meets cyber-punk.
Always on the go? Some low-rise parachute pants and a pair of sleek black sneakers will be the lewk for you. Ramirez also suggests flatforms and other chunky shoes as alternatives. If it's a little chilly out, you can always layer this look with a trench coat, which would really emphasize the Matrix vibes you'll definitely have going on.
Pisces Zodiac Signs (Feb. 19-March 20): Grunge
You have a chameleon soul; one that's incredibly receptive to its surroundings. If your fashion sense could be described in one word, it'd be eclectic. And thanks to bands like Nirvana, Pearl Jam, and Alice in Chains, the grunge aesthetic lives on. So, all those oversized hoodies or band tees and ripped baggy jeans that you've never paired together? Now's the time to test it out.
Festival season may be over, but this style makes for epic and Insta-worthy concert looks no matter the occasion. To add a bit of extra flavor, you can rock a nostalgia-inducing backpack that'll only highlight your new rock star persona.
Source cited:
Nany Ramirez, Miami-based fashion blogger and founder of Nany's Klozet