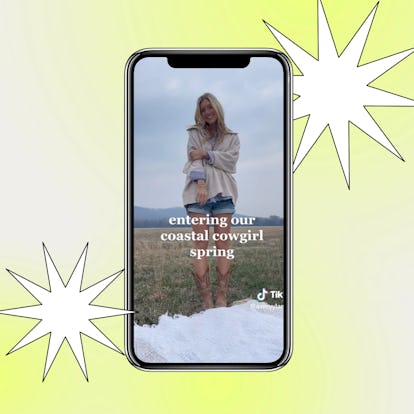 How To Get TikTok's Coastal Cowgirl Trend For Spring 2023
Meet coastal grandmother's cool new alternative.
We may receive a portion of sales if you purchase a product through a link in this article.
It finally happened — TikTok found a replacement for one of last year's most popular style trends, the coastal grandmother. The relaxed, romantic look, which went viral in spring 2022, borrowed from the timeless, clean style worn largely by middle-aged women in coastal destinations like Nantucket or the Hamptons. It served major Martha Stewart- or Diane Keaton-at-the-beach vibes with a hint of Ina Garten-picking-some-flowers chic. Now, just in time for spring-summer 2023, it's all about the coastal cowgirl. Think of the aesthetic as the coastal grandmother's cousin from the South — a little rougher around the edges, but just as loose and laid-back.
What Is TikTok's Coastal Cowgirl Trend?
The viral style is currently racking up in popularity, with upwards of 23 million views on TikTok to date, usually set to country music and declarations that it's "coastal cowgirl summer." While it's unclear exactly who dubbed this aesthetic, many users are declaring content creator Paige Lorenze as "the blueprint," taking inspo from her 'fit pics on Instagram or videos of her at her farm house.
With celebs like Dua Lipa and Emily Ratajkowski sporting cowboy boots paired with shorts and skirts as streetwear over the past year, it was only a matter of time before they started popping up everywhere, from music festivals to beach parties — even to 9-5 jobs. The cowboy boot renaissance is real, fam.
How To Achieve The Coastal Cowgirl Aesthetic
Incorporating the coastal cowgirl style into your OOTDs should be fairly easy, since many of its defining pieces are existing closet staples. You can even pull in some of the same pieces from the coastal grandmother trend. The defining characteristics of the coastal cowgirl are its color, material, and silhouette: The color palette centers around pastels and neutrals; key fabrics are linen, denim, and crocheted yarn; and the flowier, the better. Think less Cassie's Oklahoma outfit from Euphoria and more Kendall Jenner by the beach.
Even if you might not be doing any horseback riding this summer, you can still saddle into this trend in style. Below, you'll find out how you can channel your inner coastal cowgirl, with products under $45.
Cowboy Boots To Ride Into The Summer
Arguably the most important aspect of this aesthetic is the boots. For the coastal cowgirl look, browns and whites are ideal for the neutral color palette. Though they might not be an everyday item for you, they can easily be worn just about anywhere since they can be dressed up or down — concerts, shopping, sports games, or the rodeo are all fair game.
A Flowy Dress For Horsing Around
The base of the coastal cowgirl 'fit can either be a shorts and top combo, or a simple dress. For dresses, they can be midi or maxi, but above all else, flowy. Keep the colors light and fresh, like this white babydoll dress. If it's something you can picture frolicking in a field or going to the beach in, you're on the right track.
Denim Shorts, A Style Chameleon
If you opt for the shorts path, denim is the way to go. Like with everything else, light is the key word: light wash, mid- or high-rise, and a bit baggy to allow for movement. For a more rugged look, opt for a raw hem or a little distressing. While the coastal grandmother highlighted more tailored denim and linen, the coastal cowgirl lets loose.
A Linen Button-Down For Breathability
Another similarity to the coastal grandmother: flowy, linen button-downs will be your best friend for this style. They can be used as beach cover-ups, worn by themselves, layered over tanks, the list goes on. The linen material will keep you cool in the summer but add a layer for summer nights. Size up for an oversized look.
A Neutral Tee/Tank Top To Layer With Any 'Fit
Likely a wardrobe stable already in your closet, plain, neutral-colored tank tops or tees are essential to the aesthetic. They can be worn alone, under a button-down, or paired with a crochet cardigan or jacket. Unlike the other pieces, you can go for a more fitted look with these.
A Statement Belt For Western Flair
If you're looking to accessorize or really tap into the cowgirl look, pair denim shorts or a dress with a statement belt. You'll want something with a Western influence (hello to embellished buckles), but without looking too costumey.
A Hat, Because Even Cowgirls Get Sunburnt
Another optional accessory to tap into the Western influence is a hat, both for sun protection and style. For a more loose interpretation, go for a trucker hat, but to truly commit to the look, go full yeehaw with a Stetson (either straw or felt, preferred).
A Bandana For A Finishing Accent
If hats aren't your thing, you might instead go for a bandana. Call it cliche, but it's the perfect touch to give your look a bit of a Western flair. Wear it around your neck in classic cowgirl fashion, tie it in your belt loop, or wear it on your head, depending on the style you're going for.
A Cozy Sweater To Carry You Into The Night
For those chilly spring and summer nights, even the most rugged cowgirl needs a sweater. Still keep it breathable with knits, whether it's a crew sweater like this one from Aerie, or a knit quarter-zip for a more preppy look.