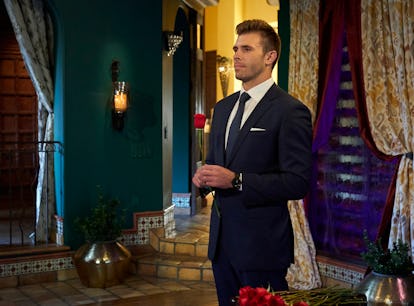 Zach's Bachelor Week 2 Eliminations Had Some Big Surprises
TBH, didn't see some of these coming so soon.
ABC/Craig Sjodin
After a little hiatus at the end of 2022, Bachelor Nation has returned to the airwaves in a big way with Zach Shallcross' season of The Bachelor. And as the Season 27 Bachelor, Zach is not messing around. He's made it clear that his goal is to end the season with an engagement, and his biggest fear going into the season was that some of the contestants might not be as serious about the process as he is.
"I'm most nervous about the fact that there could be people that are on this journey and a part of this experience that don't take it seriously and don't want to actually find love," he told Bachelor Nation. "I want to find someone who truly wants a future with me, so that's what scares me the most."
Zach found himself in that scary situation when he was one of Rachel Recchia's top three guys during her season of The Bachelorette. Zach said he felt "blindsided" by their conversation during their Fantasy Suite date and said he felt Rachel hadn't been honest with him throughout their relationship. He self-eliminated and was heartbroken, but the silver lining is that it led to his tenure as the Bachelor for Season 27. Hopefully, Zach succeeds in finding love now that he's stepped into the lead role.
Here's your breakdown of all the goodbyes from The Bachelor Season 27.
The Bachelor Episode 2 Eliminations (Jan. 30)
The 20 women of Week 2 were in good spirits at the start of the episode, especially after Jesse Palmer announced that everyone would get to go on a date. Usually, one or two contestants get left out in the second week because there simply isn't enough room for everyone on the group dates, but Zach wanted to make sure he got to spend a little time with everyone.
And spend time with them, he did! The first date of the week was a group date hosted by Latto, where the women had to show off their "bad b*tch" energy. Some Bachelor Nation alums — Victoria Fuller, Courtney Robertson, and Tahzjuan Hawkins — joined the date to offer some guidance. The alums promised they were only there to help the current contestants out, but Tahzjuan didn't exactly stick to that promise. She decided to shoot her shot with Zach, ruffling quite a few feathers among the other women. Zach sent her home, though, saying it didn't seem like the right time. With that, Tahz became the first arrival and elimination of Episode 2.
After Katherine received the group date rose, it was time for Zach's 1-on-1 date with Christina. They went all out for their date, starting out with a helicopter ride and ending up at Zach's childhood home. Christina met and hit it off with Zach's family before it was time for the dinner portion of their date where she shared with Zach that she has a daughter. He was a little taken aback by the news, but he still gave Christina a rose.
Finally, it was time for the second group date of the week, which was a simple backyard hangout. Jess and Zach shared some quality bonding time when he opened up to her about being diagnosed with pyloric stenosis as a baby. Jess got the group date rose, just in time for the Rose Ceremony cocktail party.
Brianna was feeling insecure about the fact that she received America's First Impression Rose but still hadn't gotten a rose from Zach. She also was upset about a joke Christina made during Night One about hating her because of her rose. Even after Christina apologized, Brianna talked to Zach about the whole situation. He was honest and said that he felt like Brianna was holding back from him, so she was nervous going into the Rose Ceremony.
Luckily for Brianna, she did receive a rose from Zach. Here's the full list of the 17 women who got roses in Week 2:
Katherine
Christina
Jess
Brooklyn
Genevie
Greer
Aly
Charity
Kaity
Gabi
Ariel
Anastasia
Kylie
Davia
Mercedes
Bailey
Brianna
That meant it was time to say goodbye to Cat Wong, Kimberly Gutierrez, and Victoria Jameson. Fans were especially sad to see Cat leave since she had quickly won everyone over with her sense of humor. At least the memes of her fabulous facial expressions will last forever.
The Bachelor Episode 1 Eliminations (Jan. 23)
Zach's season started off strong with a festive first night at the Bachelor Mansion. "I started the night with a lot of nerves, but those nerves are slowly going away," Zach said as he greeted the 30 women competing for his heart.
The first limo entrance was Jess, who Zach called a "great start" to the night. A few of the women went to extremes to make their entrances memorable, like Lekha, who licked Zach's ear, and Mercedes, who brought a pig. But Zach seemed to really relax when he saw the five familiar faces who he had already met during the Bachelorette Season 19 "After the Final Rose" episode. Bailey, whose name Zach forgot when they met during that episode, even got the first kiss of Night One during her limo entrance.
Brianna received "America's First Impression Rose" during that "After the Final Rose" episode, and she even wore a dress made of roses as a small nod to it. With that rose, Brianna was safe going into Night One, but there were still 19 other roses Zach needed to hand out.
Madison was super eager to get some alone time with Zach, and she even pulled a classic "Can I steal you for a second?" to get a second chunk of one-on-one time with him. But, extra time can only do so much if there is no spark there. Madison gave Zach a peck, but afterward, he said, "I don't know if I was feeling that kiss." It was pretty clear things weren't moving forward with Madison.
Zach did feel sparks with Greer, who received his First Impression Rose. They said that their connection "felt so real" and Zach said he was excited to see where their relationship goes.
Then, it was almost time for the Rose Ceremony, but first Madison needed to talk to Zach. She asked him privately if he saw a future with her, and he was totally honest. "I really do thank you for being here and I really appreciate getting to know you, but my heart wasn't feeling it," Zach told her. Madison tearfully left right then and there and didn't even make it to the rose ceremony.
In addition to the roses Brianna and Greer received, Zach gave out 18 more roses during the rose ceremony. They went to:
Christina
Charity
Bailey
Jess
Genevie
Davia
Aly
Brooklyn
Kaity
Anastasia
Kylee
Gabi
Katherine
Mercedes
Ariel
Victoria J.
Kimberly
Cat
That means Zach said goodbye to Becca Serrano, Cara Ammon, Holland Parsons, Lekha Ravi, Madison Johnson, Olivia Lewis, Olivia Miller, Sonia Sharma, Vanessa Dinh, and Viktoria Eichner.
Twenty women will continue into Week 2 as Zach gets going on his journey to find love.
Season 27 of The Bachelor airs Mondays at 8 p.m. ET on ABC.
This article was originally published on