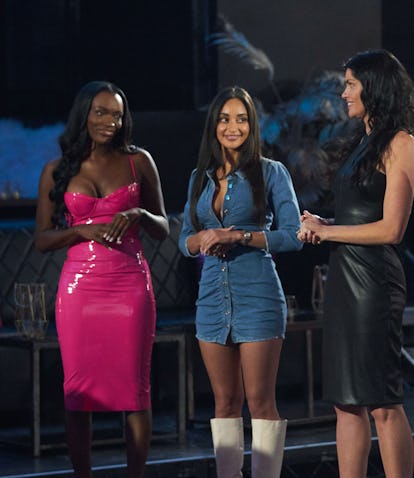 Wait, WTF Just Happened With Tahzjuan?
"Sometimes, bad b*tches cry."
ABC/Craig Sjodin
Bachelor Nation loves a comeback story, but the hard truth is that they don't always work out. Zach Shallcross' first date as the Bachelor included some surprise guests from past seasons of The Bachelor. Victoria Fuller from The Bachelor Season 24 and Bachelor In Paradise Season 8, Tahzjuan Hawkins from The Bachelor Season 23 and BIP Seasons 6 and 7, and Courtney Robertson from The Bachelor Season 16 all joined Zach and the Season 27 women. They promised they weren't there to try to win Zach themselves... but Tahzjuan didn't exactly keep that promise when she returned later in the same Bachelor episode.
In an iconic move, Latto led the group date, which was all about showing off how to be a "bad b*tch." The women walked a runway and shared honest stories about times they showed off their "bad b*tch" side. The three Bachelor Nation alums were there to coach the Season 27 women, but Tahzjuan seemed a little more focused on her own journey. "I'm the baddest b*tch, obviously," she said.
The date took a turn during the cocktail party portion of the date when Tahzjuan showed up and shocked everyone. "Zach is an amazing guy," she said. "He's a very sweet, kind person, so I'm here to see if there is anything there with Zach."
Tahzjuan took Zach to the side to speak privately and "lay it out there" for him. "I would love to add myself to the mix," she told him. "That's something new and interesting," Zach responded, clearly surprised. He told her he needed to think about it. While he did, the rest of the women confronted Tahzjuan.
Tahzjuan did not hold back when she talked to the Season 27 women. She said that their performances during the first portion of the date were "painful to watch."
"I don't know if I could see any of them with Zach," she said in a confessional.
Soon Zach returned and spoke with Tahzjuan privately. Unfortunately, the show didn't reveal what exactly was said between them, but when he returned to the rest of the group, he let them know that he couldn't allow her to stay for the season. "I want the best for her, but it seems like the wrong time," Zach said.
Tahzjuan seemed pretty heartbroken by the whole thing. "Bad b*tches don't cry," she whispered as she held back tears, until an insightful producer chimed in, "Sometimes, bad b*tches cry. It's OK."
This seemed to help Tahz process a bit. "It's just like, everyone else figures it out and finds their person, but I never do," she said through tears.
At least there's always another stint in Paradise if Tahzjuan is really dedicated to finding her person in Bachelor Nation. The producers certainly owe her one for putting herself out there like this.
Season 27 of The Bachelor airs Mondays at 8 p.m. ET on ABC.