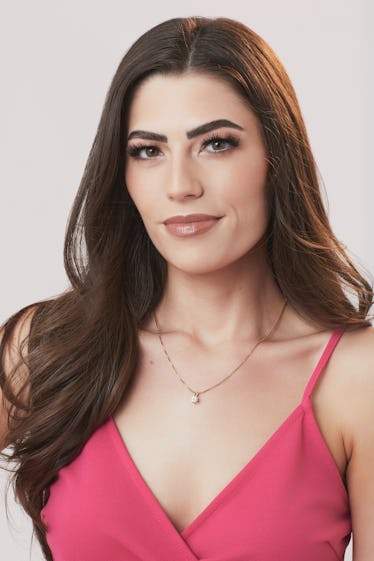 A Bachelor Contestant Hard-Launched Her Divorce With Her Casting Reveal
Her TikTok fans went wild over this.
ABC/Ricky Middlesworth
If you agree to be a contestant on The Bachelor, you know you're signing up to shine a spotlight on your relationship. And one contestant in The Bachelor Season 27 didn't even wait for the season to start airing before she started sharing her relationship secrets with fans: Victoria Jameson from Zach Shallcross' season of The Bachelor used her casting announcement as an opportunity to hard-launch her divorce.
After the cast for Zach's Bachelor season was announced, Victoria posted a TikTok with an announcement of her own. The clip features a post about Victoria's Bachelor casting, along with an audio clip that states, "I just want to get one epic photo so my ex-husband knows that I'm having a better life without him," before cutting into Shania Twain's "Man! I Feel Like A Woman." The caption for the video reads: "Hard launch: I'm divorced. Tune into my second chance at love on The Bachelor."
In another TikTok, Victoria clarified that she didn't publicly address her divorce for an entire year. She posted a video of herself with the text: "When you get divorced and don't acknowledge it publicly for over a year and are terrified of dating so you go on a reality dating show bc you're ready to find your person and now you're getting death threats from middle aged men on Facebook."
While Victoria has received some negative feedback, it looks like the vast majority of her TikTok fans are happy for her. One fan commented on the original Bachelor announcement TikTok, "Ok but this is such a badass way to get back out there. Wishing you all the best!!"
Here's everything to know about the TikTok star fans are rooting for.
Bachelor Nation's Victoria Jameson's Real Job
With nearly 1 million followers on TikTok, Victoria is a bonafide influencer. She posts beauty and makeup tutorials, as well as DIY videos. She definitely has the chops to post her makeup tutorials since she's a professional makeup artist. Victoria also considers herself a digital entrepreneur and discusses her content creation expertise on her podcast TikTalk Radio.
Bachelor Nation's Victoria Jameson's Instagram
TikTok seems to be Victoria's main social media platform, but she also posts frequently on Instagram. Her IG feed includes reposts of her TikTok videos, along with product reviews and fun things to do in the Dallas-Fort Worth, Texas, area, where she lives. Victoria also seems to have already befriended Bachelor Nation alums Sierra Jackson and Susie Evans, and has featured them on her grid.
Bachelor Nation's Victoria Jameson Facts
Now that Victoria is divorced, she's ready for a second chance at love and is hoping to emulate her parents, who have been together for over 40 years, according to her ABC bio. The 30-year-old loves emo-punk music from her teen years and used to be a commercial dancer. Whether or not she finds love with Zach, Victoria is definitely an influencer to watch.
Season 27 of The Bachelor premieres Monday, Jan. 23, at 8 p.m. ET on ABC.