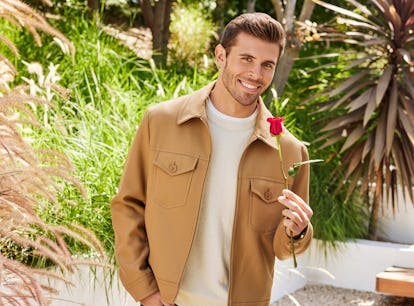 Zach Shallcross Responds To His "Boring Bachelor" Reputation
He's hoping to prove people wrong.
Nino Muñoz/Disney General Entertainment Content/Getty Images
Zach Shallcross has never been one to hide his emotions. "I'm someone who wears my heart on my sleeve," he tells Elite Daily — and that's part of why he's nervous to see his Bachelor journey play out on screen. "It's going to be really tough and a little nerve-wracking to watch that be shown to millions of people. They'll really see me at my lowest and my highest, and that's going to be a little tough to get used to."
The 26-year-old tech executive from Anaheim Hills, California, is preparing for the premiere of The Bachelor Season 27 on Jan. 23. He finished filming in November, but he's gearing up for all the opinions to come when the season officially airs. "I stay off the comments, don't even touch them," he says.
Speaking of comments, many Bachelor fans expressed disappointment when Shallcross was named the franchise's lead. Some perceived him to be "nice" but "boring" after his stint on The Bachelorette Season 19, where he finished in Rachel Recchia's top three. The negative opinions from fans bothered him at first. "People are making assumptions, thinking they know who I am based on literally nothing. So, it was tough to see," he says. But he gets it now. "I wasn't really shown much last season, so I understand where they're coming from."
In his own season, though, he hopes to surprise people. "Fans will see that I'm someone who doesn't really take anything too seriously," he says. "I've got the worst dad jokes in the world. I think I'm funny, but I'm really not. And it's just goofing around and having fun this whole season. I think it'll be a little bit of a surprise [given] the stereotype of the boring Bachelor I'm getting now."
He also loves a grand romantic gesture — something viewers will surely see (The Bachelor is known for hosting extravagant dates, after all). "I'm big on always wanting to do things [with a partner], dates or camping or taking a trip or picnics in the park," Shallcross says. "I'm big on quality time together and always wanting to make a partner feel comfortable and have fun."
As for what's to come this season? "The fans will see people's true intentions brought to light," he hints. TBD who's really there (you guessed it) for the right reasons.
Season 27 of The Bachelor airs January 23 on ABC.