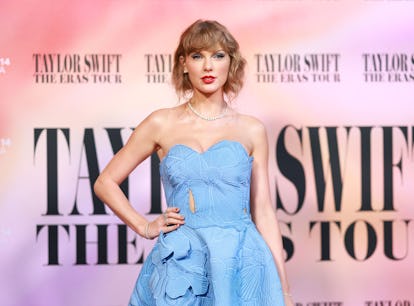 Swifties Have A Theory On Why 1 Eras Tour Song Was Cut From The Movie
Hm, so has Matty Healy been the real anti-hero all along?
Matt Winkelmeyer/Getty Images Entertainment/Getty Images
Raise your hand if you've been personally victimized by Matty Healy and Taylor Swift's past romance. When the duo dated this summer, Swifties voiced their disappointment (and later, post-breakup praise) about their sudden dynamic. While their relationship was brief, it might've left a lasting impression on Swift's Eras Tour film — and for Folklore hive, not in a pleasant way. The singer noticeably removed her "Cardigan" performance from the movie, and fans believe it has to do with Healy. Oof, let's investigate.
During the Oct. 11 premiere of Swift's concert film, fans who attended the showing revealed the singer made some cuts to the setlist. "Cardigan," alongside five other songs, made the chopping block and that shocked Swifties. Many X (formerly known as Twitter) users began to theorize the reasoning behind the cut, and one popular hunch had fans shook.
After the revelation that "Cardigan" was cut, a months-old clip of Swift performing the track on tour went viral on X. This resurfaced video sent fans into a spiral, as it called back on the blossoming days of Swift and Healy's relationship. ICYMI: At her May 5 show in Nashville, Swift sent Healy a subtle shoutout. "This one is about you. You know who you are. I love you," she seemed to mouth to the audience while the opening chords of "Cardigan" strummed in the distance.
Notably, Healy attended that show and had mouthed the exact same words at his 1975 show two days earlier. With the ex-duo sharing that sonic moment, Swifties theorized that Healy's connection to "Cardigan" is what led to the song's removal from the movie.
The correlation isn't too far-fetched, considering that Swift and Healy's relationship wasn't well-received. One month (and a few more Healy sightings) after Swift's "love message," the duo reportedly called it quits on June 5.
A source confirmed the breakup to Entertainment Tonight, adding the two "realized they're not really compatible with each other." While she didn't find her lavender haze with Healy, it appears she's found it with her new rumored beau, Travis Kelce.
Since Swift has moved on, the "Cardigan" theory seems to hint the singer might not want to attach her former controversial relationship to the Eras movie. Other fans shared a similar sentiment, and began name dropping Healy's name on X. One user wrote: "Why Cardigan.. Matty what did you do," while another "fully blamed" the 1975 singer for the track's ultimate exit from the film. A third fan joked they blocked Healy, further cementing that "Cardigan" has a heavy stan base.
Swift hasn't revealed why she condensed the film's setlist. However, one thing's for certain: "Cardigan" will always have a forever home on Folklore.