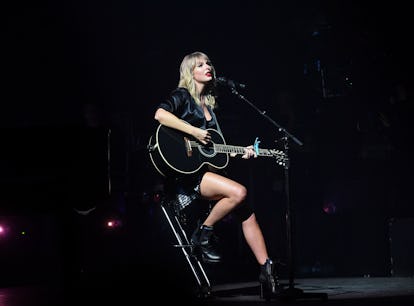 The Most Tumblrcore Songs & Albums Of 2022, Ranked
Grab your fishnets and Dr. Martens.
Dave Hogan/Getty Images Entertainment/Getty Images
Back then it was Lolita, now it's coquette. The revival of Tumblr era culture and fashion — otherwise known as "Tumblrcore" or "2014core" — has been on the rise for the past couple of years, but the trend definitely exploded in 2022, especially when it came to new music.
Tumblrcore is rooted in nostalgia from the 2014 online era, when a filtered photo of a record player could go viral, peak fashion was American Apparel, Alexa Chung was the blueprint, and it was cool to be sad. These days, you can find plenty of TikToks on how to dress in Tumblrcore soft grunge style, such as pairing some Dr. Martens with a mini tennis skirt and eye makeup that makes you look like you haven't slept (think: Sky Ferreira then, Emma Chamberlain now).
Another hallmark of the Tumblr aesthetic: indie pop, and the angsty look that came along with it. As with fashion, music from the past year fits right into the Tumblrcore cultural slant, in particular the two weeks during October that saw the release of new records from a roster of 2014 Tumblr era heavy hitters in The 1975, Arctic Monkeys, Carly Rae Jepsen, and Taylor Swift. And they weren't the only ones to contribute to the trend this year.
Below, the 10 most Tumblrcore albums and songs of 2022, ranked.