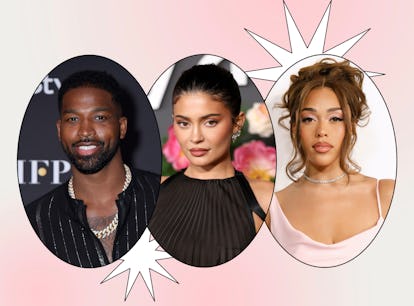 Tristan Thompson Finally Apologized To Kylie For The Jordyn Scandal
This moment has been four years in the making.
Michael Loccisano/Getty Images Entertainment/Getty Images/Phillip Faraone/Getty Images Entertainment/Getty Images/Taylor Hill/FilmMagic/Getty Images
Let's revisit some old drama. 2019 had some fiery celebrity feuds, but none could hold a match to the Tristian Thompson and Jordyn Woods saga. In February of that year, Thompson — who was dating Khloé Kardashian at the time — allegedly kissed Woods at a house party. This cheating scandal not only soured Woods' years-long relationship with the KarJenners, but opened the door to more discussion of Thompson's infidelity issues. Now, four years later, he's trying to right one of his most infamous wrongs.
In the Nov. 16 episode of The Kardashians, Thompson apologized to Jenner for the situation. This long-awaited discussion was hinted at early on in the episode, as Kardashian asked her younger sister if she was open to having a chat with her estranged boyfriend. Jenner agreed to the conversation, and Thompson admitted that he realized how harmful the scandal was to her friendship with Woods.
"It really bothers me because we've always had such an adult relationship," Thompson said. "I feel like everyone got affected differently, but I think you were affected the most by the situation with losing a sister, basically. Like, you lost Jordyn, who's a big part of your life."
At the time of the scandal, Woods and Jenner had been close friends for seven years. Their relationship blossomed to the two moving in together; however, Woods moved out of Jenner's home as the drama unfolded on Season 16 of Keeping Up With The Kardashians.
Thompson continued his apology, adding it "wasn't right or smart" to put himself and Woods in such a complicated situation. "It's 100% on me, but I want to say I'm sorry and I feel bad about it," he said. "The fact that I came with my poor decisions and being a f*cking idiot and just being young and stupid. Life is so short. And it sucks because even though we made our mistakes, sometimes it's hard to come back from situations like that."
Jenner thanked him and began reflecting on her friendship with Woods, which has been on the mend recently. In July of this year, the two were seen grabbing dinner together in Los Angeles. Their unexpected reunion surprised fans, especially since Kardashian publicly blamed Woods for "breaking up" her and Thompson's relationship months after the scandal. The former couple share 5-year-old daughter True and 1-year-old son Tatum.
As for Jenner and Woods, the duo haven't been seen together since their summer outing. However, Jenner revealed that they're in a positive place. "Jordyn and I are cool. We still talk and catch up, we're good," she said. "I think I was so co-dependent with Jordyn that I could've never imagined my life without her. We would've probably still been living together, and I think she needed to grow without me, I needed to grow without her."
Later in the episode, Kardashian also revealed Woods is in her good graces. "I have forgiven Jordyn," she said in her confessional. "Of course, I was upset at the time, and we moved on. There's no bad blood, I've posted on my Instagram stories. But Jordyn and I are good."