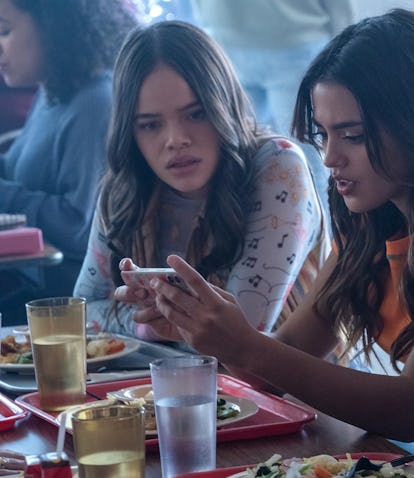 11 Shows Like Pretty Little Liars: Original Sin
There are so many good options.
Karolina Wojtasik/HBO Max
As if the Pretty Little Liars universe could get even more complex, PLL: Original Sin is the new, enticing entry to the PLL universe. From hookups, to chase scenes, to the mystery of finding "A," Original Sin hits a lot of the same vibes as the OG Pretty Little Liars, with some cheeky easter eggs thrown in, too. If you can't enough of this update to the PLL universe, and need more teen slasher energy, these 11 shows are for you.
PLL: Original Sin follows five new liars — Mouse, Faran, Noa, Imogen, and Tabby — as they are tormented by "A" seemingly because of the sins of their mothers. All five of their moms were shadily involved in the 1999 death of a classmate, Angela Waters. The mystery sparked tons of theories swimming about the identity of "A," their potential motives, and the suspiciousness of basically every character.
This update to the PLL universe also brings with it serious discussion of modern topics like teen pregnancy, drug addiction, and racism. Thankfully, for fans of the show, Original Sin isn't the first show to blend teen drama, thriller elements, and honest discussions about real world issues. Here are 11 vibe-matched shows to PLL: Original Sin.
Love this list? Create a Likewise account to save these recs to your own watchlist and follow Elite Daily for more. You'll always know exactly what to watch next.