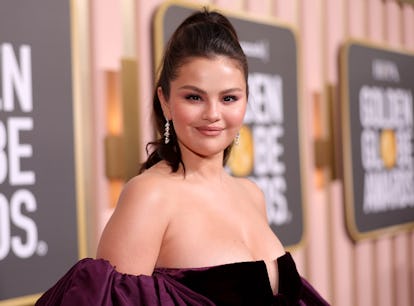 Selena Gomez's Zodiac Sign Makes Her A Feisty & Emotional Partner
It definitely keeps things interesting.
Christopher Polk/NBC/NBCUniversal/Getty Images
Selena Gomez is the ultimate Cancer. As fans saw in her 2022 documentary My Mind & Me, the multi-hyphenate knows how to feel all the feels, and that powerful empathy seems to be a driving force in her life and relationships. This deeply emotional side makes Cancers — Gomez included — great partners, but that doesn't mean they never face challenges.
It's also worth noting that Gomez's chart can't be completely summarized by her sun sign. The Only Murders In The Building actor is a Cancer sun, but she also has a lot of fire in her birth chart. Born on July 22, aka the last day of Cancer season, Gomez is right on the cusp of Leo season. She's also a Leo rising and an Aries moon. In other words, Gomez has a lot of heat to go hand-in-hand with that characteristic Cancer sensitivity.
That's not all. Gomez has been going through her Saturn return for the past three years, which can complicate matters. This period, which occurs every 28 to 30 years, can "unfortunately bring hardships and challenges," per astrologer Chelsea Jackson.
There's nothing straightforward about Gomez's astrological chart, so let's clarify things. Here's how the stars affect Gomez and her romances.
Leo Rising & Aries Moon Are Fiesty
Gomez might be a Cancer at heart, but she isn't afraid to let her fiery side out to play. In February, the singer defended her BFF Taylor Swift when an old video of Hailey Bieber resurfaced online. (In it, Bieber seemed to be gagging at the mention of Swift.) "So sorry, My best friend is and continues to be the best in the game," she commented on the TikTok on Feb. 23.
Of course, Gomez's self-conscious and empathetic Cancer side soon kicked in. Later that day, she announced in a TikTok live, "I'm going to be taking a second from social media, because this is a little silly." (She then briefly deactivated her account.)
Looking at Gomez's birth chart, this isn't a surprise. Cancers with Leo and Aries in their natal chart often let their emotions lead over their logic. So, when Gomez feels passionate or protective, you can expect her to speak out. This combination can make her a great partner — you'll always know where she stands. And even if she does get a little heated in the moment, you can trust that she'll take the time to really think about things and empathize.
Her Saturn Return Might Make Things Messy
This recent bout of drama is pretty typical for someone going through their Saturn return, especially Saturn return in Aquarius (which is happening for Gomez right now). If your Saturn is in Aquarius, it means that you like to break the rules and test some boundaries.
That can make romantic relationships challenging — especially during the tumultuous period of Saturn return. "Within the context of her chart, Saturn is responsible for relationship difficulties," Jackson explains. Though Gomez isn't publicly in a relationship with anyone right now (despite those Drew Taggart rumors), it's safe to say that she's defying the typical celeb PR move of staying quiet on all rumored beef.
Cancers Value Empathy & TLC
Cancers thrive when they're taking care of the people they love, and they need that same TLC reciprocated. They do best with partners who are more than willing to show affection.
In August 2022, Gomez opened up about her hopes for a SO. "I want a husband, and I want that kind of touch. I think my love language would have to be physical touch … and acts of service. The older I've gotten, the more I really appreciate that," she explained on TaTaTu's vodcast, per Us Weekly. "I went and hung out with someone who was a bit older... It was like being taken care of in a way. Being like, 'Are you comfortable? Do you need a blanket?' It was just so kind and I don't feel like a lot of people are like that anymore."
This article was originally published on