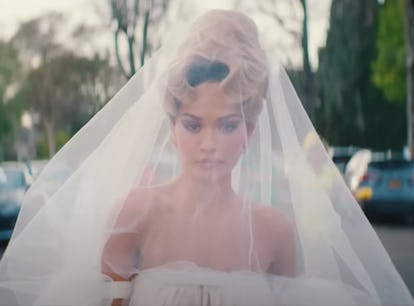 Rita Ora Confirmed She's Married By Dropping A Music Video
There have been rumors she secretly married Taika Waititi for months.
The secret's finally out. Rita Ora and Taika Waititi have avoided addressing the rumors that they secretly got married toward the end of 2022 for months, but now, Ora is confirming things in the most pop-star way possible: a music video. Ora dropped her wedding-themed video for "You Only Love Me" on Jan. 27, and to make sure everyone got the message, she confirmed she did indeed say "I do" to Waititi while promoting the love song.
On her new single's release day, Ora appeared on the Heart Radio Breakfast radio show to clarify that her matrimonial music video is indeed confirmation that Waititi is now her husband. "Yes. Here we are," Ora said when asked if she was married, per People. "They say everything happens for a reason. I am officially off the market, people!"
The "You Only Love Me" music video is a full ode to Ora's wedding, including some taped well-wishes from celebrity friends like Lindsay Lohan, Addison Rae, Kristen Stewart, Jodie Turner-Smith, Chelsea Handler, and Sharon Stone. The colorful video then shows Ora getting dolled up to walk down the aisle with her bridesmaids, only to walk down the street and break down in tears when she sees her castle venue burning on the horizon.
The video dropped a little over five months after rumors first arose that she and fiancé Waititi secretly got married in August 2022. After fans noticed the couple seemingly wearing wedding bands in an Instagram post, a source told People that Ora and Waititi had gotten married in a small ceremony. However, neither of the rumored newlyweds ever confirmed that report, nor did they ever speak publicly about any new step in their relationship after getting engaged in June. Until now, that is. Ora's video and statement are the confirmation that fans of the couple have waited nearly half a year for.
Ora and Waititi began dating in 2021 shortly after photos of the pair looking very cozy while spending the summer in Australia together went viral. Now, less than two years later, Ora and Waititi are officially husband and wife, and they have their own song and music video to prove it.