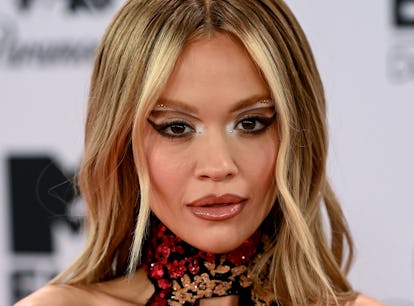 Rita Ora's Response To Those Throuple Rumors Was Firm
Photos surfaced of her, Taika Waititi, and Tessa Thompson in May 2021.
Dave Hogan/MTV/Getty Images Entertainment/Getty Images
Rita Ora finally addressed those throuple rumors surrounding her, Taika Waititi, and Tessa Thompson. ICYMI, in May 2021, photos surfaced of this trio getting very close the morning after a party at Waititi's home in Sydney, Australia. A few months later, in August 2021, Ora and Waititi went red carpet official as a couple, and one year later, the duo got married — all without Ora ever publicly responding to the throuple speculation.
Over a year later, in a cover story for GQ published on Jan. 23, Ora gave her two cents on the throuple sitch — and apparently, those photos were deceiving. "I just chose to not acknowledge that because it's ridiculous," she told the outlet. "I think when some things are so absurd, and it's hard to fathom any sense of it, you just have to ignore it. I've taken that approach for a lot of things, because you don't want to put energy towards something that's nonexistent. It's like trying to explain something that didn't happen means you're feeding into nothing."
OK, so that doesn't really leave any room for interpretation. Still, Ora added some context to the photos. "Have you ever been in a situation where you've had a lot of drinks and everyone's your best friend? And then the next day you're like, 'I was talking to this person in the smoking area for four hours and I've got no idea who they are?'" she explained. "Literally – that [photo] was just a bunch of friends having a good time. They [Waititi and Thompson] had a crazy schedule and everyone was letting loose. I love that. Each to their own."
Per Ora, the constant media attention can get tedious — and these throuple rumors seem like a prime example. "Yeah, there have been moments where it's been unbearable, and I'm like, 'Maybe this isn't worth it.' But you don't want to give up your dream and everything you've done to get to this point for a moment in time that will eventually just move on," she explained. "You don't want to bite the bait and ruin everything you're doing."
However, Ora did find a bright side to the rumors. She explained, "The good news though, is that when I was on Twitter talking to my fans, all of my incredible LGBTQIA+ fanbases were like, actually – whether this is true or not – I'm so inspired that this is being normalized publicly. That made me really happy. You don't know who it's touching." (Does her calling the rumors "so absurd" count as normalizing throuples, though?)