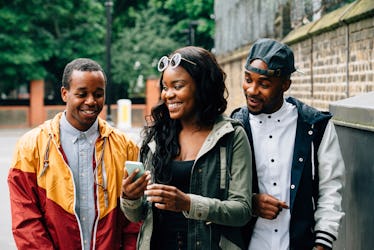 6 Polyamorous People Break Down How They Came Out To Their Family & Friends
Inch by inch, pop culture and the ~mainstream~ dating world have caught onto the idea that relationships come in all shapes and sizes. For far too long, society alienated all couples or groups who didn't seem to align with our (very limited) idea of what a relationship should look like ("one man, one woman" my *ss). But we're finally coming around, you guys. Pushing past the boundaries of monogamous, heteronormative relationships! Celebrating that love is love! And yet, I'd imagine that coming out as polyamorous to your family and friends can still be a nerve-racking experience for some.
If you've recently entered into a polyamorous relationship with your partner (or partners), and are wondering how to break the news to those closest to you, remember that this is no big deal. Polyamory is awesome, way more common than many people realize, and — if you're feeling fulfilled in a poly relationship — it's something that your loved ones will likely be thrilled to hear about. They'll probably have questions, yes, but they'll probably stem from a place of curiosity, not skepticism.
For a real break down on how best to come out as poly to your fam and friends, peep the six polyamorous guys and gals below who have all done exactly that (thanks, Reddit!).