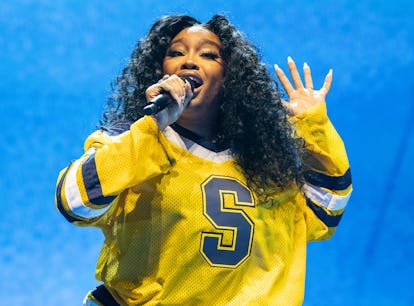 SZA Canceled Her VMAs Performance After A "Disrespectful" Snub
Here's why she didn't perform at the show.
The Washington Post/The Washington Post/Getty Images
There's a reason SZA was MIA at the VMAs. Although she was one of the most nominated artists of the night, the hitmaker skipped the awards show, and her manager revealed why afterward. Apparently, she was even in talks to perform at the 2023 ceremony, but all of that was called off due to MTV snoozing on the star in one of the event's biggest categories, her manager said.
Terrence "Punch" Henderson, who has managed SZA for years, told The Hollywood Reporter that he ended talks of a potential VMAs performance after he learned his superstar was not nominated in the Artist of the Year category. "Obviously, she had one of the best years, if not the best year, of any artist at this point. I don't see why she wouldn't be nominated for Artist of the Year," Henderson said. "It just really didn't make any sense to me. It's disrespectful."
Despite earning nominations in eight categories, making her the second most nominated artist of the night following Taylor Swift's 11 noms, SZA's name was noticeably absent in the Artist of the Year category. Considered one of the show's top prizes, the nominees for 2023 were comprised of Swift, Beyoncé, Doja Cat, Karol G, Nicki Minaj, and Shakira, with Swift taking home the win. Henderson revealed that MTV brushed him off when he tried to ask why SZA, who has had an inarguably landmark year with her album SOS, wasn't up for the top prize.
"They couldn't give a clear answer as to why she wasn't [nominated]. It was just, 'Well, she's nominated for all these other [awards],'" Henderson said. "When we tried to set up the second call, they didn't want to discuss Artist of the Year, which to me was really a slap in the face."
SZA did end up winning the Best R&B category for her single "Shirt," but wasn't present to accept the award. Henderson confirmed the Artist of the Year snub was the reason she skipped the show, which she was initially going to perform at.
"Why wouldn't she be nominated for Artist of the Year? Even with the other artists that were nominated for Artist of the Year, some of them were even off-cycle. They didn't have an album out," Henderson said. "I mean, no disrespect to them or anybody else; everybody's great and all of that, but still, you can't discredit what SOS has done and is currently doing."
Despite the snub, SZA is continuing to dominate the charts with two new collaborations: an acoustic version of "Snooze" featuring Justin Bieber and her moody duet with Drake, "Slime You Out."