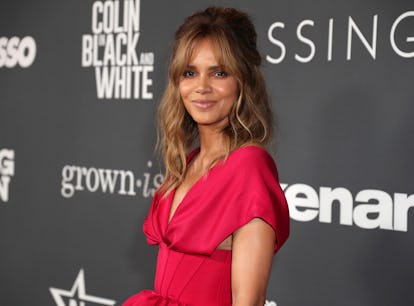 Halle Berry Claims Drake Used Her Photo For His Single Without Permission
Leon Bennett/Getty Images Entertainment/Getty Images
The green slime saga continues. All eyes have been on Drake and SZA's newly-released single, "Slime You Out." And no, not just because of the rapper's questionable line about slavery. Yes, yikes. The single's cover art, which sees Halle Berry covered in slime at the 2012 Nickelodeon Kids' Choice Awards, has also captured everyone's attention— including Berry. The actor revealed she didn't approve of her photo being used, and fans recently came across another comment that puts Berry's frustration into perspective.
On Sept. 16, one day after "Slime You Out" released, Berry posted a quote on Instagram about "being the bigger person." Many fans believed this post was aimed at Drake and SZA, and Berry's responses in the comment section affirmed that. Fans noticed a comment where a user asked why Berry was upset about the photo. The commenter said the "photo is owned by Getty Images" and that they were "sure Drake got their permission and paid the fee." However, that's not what left a bad taste in Berry's mouth.
The Catwoman star claimed she told Drake she did not want him to use the vintage image; however, he did so anyway. "Cuz he asked me and I said NO that's why. Why ask if you intend to do what you want to do! That was the f*ck you to me. Not cool. You get it?" Berry responded. Oof.
This wasn't the last time Berry shared her disdain in the comments. When asked about the photo use, she left her heart in the response. "Didn't get my permission. That's not cool I thought better of him," Berry wrote. However, she's not holding a grudge against the rapper's allegedly shady movements. "When people you admire disappoint you you have to be the bigger person and move on!"
It appears Berry's slime photo is an alternate cover for "Slime You Out." On other streaming platforms, the single art for the track is the album cover for Drake's upcoming album For All the Dogs: a sketch of a white dog that was drawn by Drake's son, Adonis.
"Slime You Out" is the second offering from Drake's new project, which he originally announced was on the horizon earlier this summer. After several teases, the rapper revealed the album will drop on Sept. 22. He recently postponed the due date to Oct. 6, as he wants to finish the final leg of his 21 Savage-assisted It's All A Blur tour before focusing on the album.
Despite the cover art controversy, fans were surprised to see him collaborating with SZA. Back in 2020, SZA revealed she dated Drake over a decade prior, sometime in 2009. Ever since that revelation, the duo never publicly released any music together until "Slime You Out."
The album's lead single, "Search & Rescue," also sparked some drama since it contained audio of Kim Kardashian talking about her divorce from Kanye West. As for Berry, her annoyance about the use of her likeness was already understandable. However, now knowing this new alleged layer, it makes the situation even muddier.
Drake has not responded to Berry's comments.
This article was originally published on