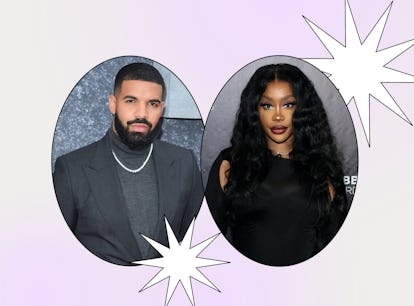 Drake & SZA Reunited For A Slimy Diss Track About Toxic Exes
You've got to love IRL exes making magic together.
Karwai Tang/WireImage/Getty Images/Dimitrios Kambouris/Getty Images Entertainment/Getty Images
Welcome back, old Drake. Ever since he announced his next album, For All the Dogs, earlier this summer, the rapper hinted he might return to his sonic roots. You know, those nostalgic days including snippets of voicemails from past girlfriends ("Marvins Room") and delivering the smoothest bars that made listeners do a double take. He stayed true to his teasing, as his latest collaboration with SZA has his emotive, Take Care alter-ego written all over it. On Sept. 15, the duo released "Slime You Out," a dimly-lit diss about toxic relationships.
This collaboration surprised fans, as Drake and SZA have never publicly worked together before. However, many are aware of their dating history. In October 2020, the rapper revealed on 21 Savage's "Mr. Right Now" that he and SZA had dated in 2008. This relationship drop was quite sudden, as neither artist ever hinted they were an item before the track's release. That same month, SZA confirmed their past relationship. She also corrected Drake's claim, stating they actually dated in 2009.
Now, nearly three years after the revelation, the two artists have reunited for some sonic magic. Drake first teased "Slime You Out" in a Sept. 14 Instagram post. He posted the single's fitting artwork, which features a photo of Halle Berry getting slimed at the 2012 Nickelodeon Kids' Choice Awards. SZA shared the cover on her own Instagram that same day, confirming the collab with three emojis.
"Slime You Out" is one hell of an introduction to For All the Dogs. Over airy, almost psychedelic keys and isolated harmonies, Drake takes aim at all the women who played him. While it doesn't appear he's going after SZA, his smolderingly bitter delivery feels very on the nose.
"I don't know what's wrong with you girls. I feel like y'all don't need love, you need somebody who can micromanage you, tell you right from wrong," he cockily spits, before promising to "slime [her] for them kid choices [she] made."
SZA meets him with the same acidic energy, asking: "How the f*ck you so real but play b*tch on my line?" Whew. She continues to blast toxic, borderline narcissistic men until Drake takes back the torch, closing the track with a gritty beat switch.
If this track proves anything, it's that Drake needs to bring his R&B-singing side out of retirement stat. It seems fans on Twitter agree.
While some appreciated "Slime You Out," others believed this release was underwhelming.
SZA absolutely devoured her second verse.
With both artists being Scorpios, this might be the new cutthroat anthem for the upcoming astrological season.
Drake's For All the Dogs will drop on Sept. 22.