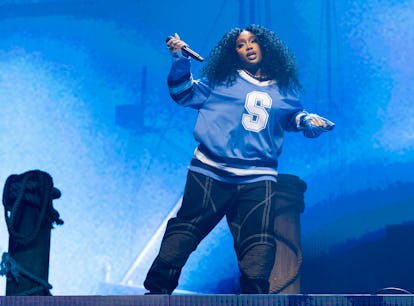 Turn Off Your Snooze Button: SZA Will Release A Deluxe Version Of SOS
R&B's unpredictable princess is back.
Sonically, SZA has always left a lasting impression on the ears. From her underrated warbles on 2014's Z (yes, "Sweet November" deserved so much more) to her duets with Kendrick Lamar and Doja Cat, the singer knows how to turn a melodramatic moment into a hit. That prowess shined on 2022's SOS, her second album filled with infectious slow-burns and naughty revenge fantasies about toxic exes. The record aimed right at fans' sweet spot, so much so that listeners wanted more. And now, SZA's delivering just that with a new release.
On Sept. 9, SZA held a surprise celebration concert for SOS in Brooklyn. However, this event wasn't the only shock of the night. There, she announced she's releasing a deluxe version of the second studio album. "The deluxe is like a whole 'nother album," SZA said, per a fan video on TikTok. "It's called Lana. It's seven to ten songs. And it'll be out this fall." Well, it's time to gain a new personality trait.
It wasn't long until this announcement hit social media, and fans marveled at the idea of SZA continuing this era. Though SOS was released in December 2022, the singer has spent most of this year fleshing out the album with her largely sold-out tour. Her latest dedication to this arc came with her "Snooze" music video, which sees her snuggled up with Justin Bieber — obviously, a duo we never knew we needed — and Beef's Christopher Kim.
The excitement behind the deluxe record continued. While celebrating the news, one user hinted the album's new title is a reference to the singer's first name, Solána. The theory (eh, more like an equation) is interesting, as SOS + Lana = Solána makes total sense. SZA hasn't confirmed if the album title intentionally spells out her first name; however, that hasn't stopped fans from singing their praises.
Elsewhere, other users wondered if SZA would fulfill her promise on Lana's anticipated due date. It's a rather understanding concern, as SOS went through multiple delays before its winter release. The "Ghost In The Machine" star reportedly scheduled the album to release in the summer 2022; however, the season came and went without new music. In July of that year, the singer alleged her management teams RCA and TDE (also known as Top Dawg Entertainment) were to blame for the setback.
With her having a tainted history with her label, Lana releasing at the revealed time would be impressive. Entering a new season with a new batch of deliciously toxic inner monologues? Yes, please. Here's everything to know about SZA's deluxe version of SOS.
What's The Name Of SOS' Deluxe Album?
SZA revealed the album will be called Lana.
SZA's New Sonic Era Is Around The Corner
In the fan-captured TikTok, SZA revealed Lana will release "this fall."