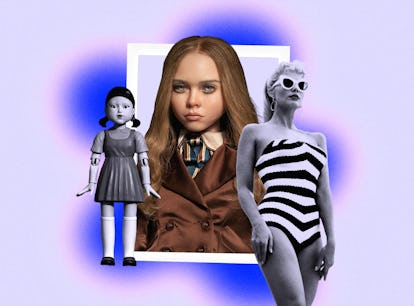 Which Pop Culture Doll Is The True Fashion Icon?
Lindsay Hattrick/Elite Daily; Netflix; Universal Pictures; Warner Bros. Pictures
Dolls are having a moment. Of course, plastic fashionistas have been turning looks for decades, but with M3GAN's sassy slayage in January and Barbie's rose-colored live-action return later this year, they are taking over more than ever, and doing it in style.
From box office smashes to cult-classic horror flicks, and high couture to edgy streetwear, well-dressed dolls have their plastic pink stilettos on all of pop culture's throat. Doll-inspired looks are appearing on high-fashion runways. The aesthetic has made its way to the Drag Race main stage thanks to standout queens like the Barbie-inspired Trixie Mattel and the Bratz-obsessed twins Sugar and Spice. On TikTok, influencer Hal Baddie has inspired legions of little dolls to dress up and live their best lives. The fluorescent-pink Barbiecore aesthetic has never been trendier as Margot Robbie's version of the iconic doll prepares to come to life, and the viral success of M3GAN has shown even creepy horror villains can serve looks.
In the age of pint-sized fashionistas becoming gargantuan forces in the world of style, these pop culture dolls are the cream of the crop. But which one reigns supreme? Let's break down this short list of the best-dressed baddies to find out.
8. Young-hee (Squid Game)
Sure, the giant bullet-spewing robot doll from Squid Game may only have one look — and it's not a particularly remarkable one — but Young-hee's impact simply cannot be denied. Her instantly iconic orange dress and yellow shirt became the go-to Halloween costume of 2021. She gave the green light to schoolgirl style making a comeback, and anyone who's not into it can argue with her — good luck with that.
7. Bo Peep (Toy Story)
The Toy Story universe is full of dolls, but not many fashionable looks (sorry, Jessie). However, Bo Peep stands on a (literal) podium above the rest. Initially, her look was a bit old-fashioned, but still iconic with a full pink dress and matching bonnet. But she really changed the game in Toy Story 4, when she ditched the flounce for a more modern cape and trouser 'fit, complete with lacy hems and a big pink bow to pay tribute to her old style. She might not have made this list without that reinvention, which proves she can slay both on an end-table and out in the wild.
6. M3GAN
Dolls are all over the horror movie genre, but none of them can turn a look like M3GAN. Chucky, Tiffany, Jigsaw, Annabelle — their basic, tired looks are as busted as their faces. But M3GAN, she knows the importance of a costume change, darling. Her beige schoolgirl dress and multicolored bow are her staples, but her collection of runway-ready coats is what really makes her a style superstar. Not to mention, the wig is laid!
5. Kit Kittredge (American Girl)
You just can't talk about dolls who've had an impact on pop culture without bringing up the American Girl dolls. They might be better known for their engaging historical narratives than their looks, but the fact that each doll had a whole wardrobe of clothing options also helped make them an institution. Kit had the most enviable closet of all. From frilly sundresses to fun-patterned playsuits, Kit's clothing options burst with color, creativity, and variety. Sorry, Samantha, but you didn't stand a chance.
4. Eve (Life-Size)
When a doll becomes an actual supermodel, that's fashion history. The 2000 Disney Channel movie Life-Size only barely showed the actual Eve doll, but that doesn't matter. Seeing Tyra Banks as Eve, the doll-turned-human, was more than enough to mark her place as a style legend. Life-Size was a true showcase on how doll-inspired fashions had become mainstream trends, and Eve got to serve even more bright and bold looks in 2018's Life-Size 2.
3. Draculaura (Monster High)
Yes, even little goth kids were into dolls, just not the Barbies. Monster High dolls offered a darker alternative to the mainstream blondness, and fittingly, they came with much edgier looks that made every day Halloween. In terms of fashion, Draculaura floated above the rest of the classic horror-inspired dolls. The vampiric it girl was known for pairing her black-and-white looks with bold pops of pink, most notably as streaks in her floor-length pigtails. She just may have been the first girlie to make Hot Topic actually chic.
2. The Bratz Dolls
Often viewed as Barbie's main rival, Bratz dolls carved out a massive fandom for themselves by going in a direction Barbie never could: streetwear. Bratz have always been known for their more risqué look, experimental fashions, and diverse representation. However, no matter how iconic Bratz dolls could become (and they've become incredibly iconic), it's pretty much impossible to talk about them without bringing up their predecessor...
1. Barbie
You knew this was coming. There's absolutely no way any other doll in the world has had the far-reaching impact of the queen B herself. She's mother to these girls. Ever since Barbie first stepped onto the scene in 1959, she's been a pop culture fixture, with over 200 careers to her name, an ever-expanding universe of siblings and friends, and starring credits in countless movies, shows, video games, and other properties. Her never-ending wardrobe has inspired some of the most in-demand fashion designers in the world, and she's not slowing down anytime soon.
It's Barbie's world, and everyone else is just a doll living in it.