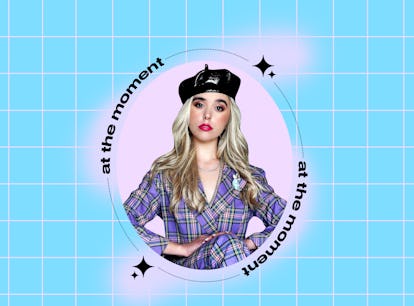 An Electric Conversation With Jenna Davis, The Voice Of M3GAN
Jenna Davis didn't even know she was auditioning for a horror movie. Now, it's all anyone can talk about.
Lais Borges/Elite Daily; Ashley Roberts
In Elite Daily's series At The Moment, celebs dish on their current projects, pop culture hot takes, and everything taking over their group chats. Below, Jenna Davis discusses giving M3GAN a voice, turning a Sia classic into creepy comedy gold, and the downsides of going viral.
You won't see Jenna Davis in M3GAN, but you'll definitely hear her. The 18-year-old actor and social media personality voices the mega-viral murder doll in the hit horror film. And while Davis is no stranger to the spotlight, M3GAN is taking her fame to a whole new level — one she never saw coming.
For starters, when she first auditioned for the film, Davis wasn't aware she'd be voicing a malprogrammed menace who goes on a gory killing spree. In fact, she didn't even know M3GAN was a horror movie at all. "I had really no clue what it was going to be," Davis says. "I knew it was an AI robot, and based upon the dialogue I knew some things were going sour, but I did not know what it was, so it's bizarre to think it is what it is today."
What it is today is the internet's obsession. When the movie's first trailer dropped in October 2022, M3GAN's hypnotic dance and surprisingly chic style were an instant meme. But going viral isn't new for Davis, who's a country-pop singer IRL. In 2018, a video of her doing a "penny, nickel, dime" hand-clapping game made its rounds on the internet, and to this day is still used in Twitter reaction clips and TikTok sounds... not always in a flattering way. "I got made fun of a lot for 'penny, nickel, dime,'" Davis says. "Meme pages started picking it up and turning it into something that it was never supposed to be."
Now that M3GAN is out in theaters, Davis is only getting more attention — the good kind this time. M3GAN slayed box office projections by raking in over $30 million in its opening weekend (more than double the movie's budget) and social media is flooded with fans reacting to their favorite scenes from the film. One of the major standout moments in the movie arrives halfway in, when M3GAN suddenly launches into a tinny cover of Sia's "Titanium." Davis had a difficult time tackling the musical moment, but not for the reason you'd think. "Ironically, for the role I was told to sing worse. I've never in my life been told to sing worse," Davis says. "They wanted Kermit and Sesame Street-esque vibes."
M3GAN's speaking voice came a lot easier. "You hear Siri or Alexa, their tone is incredibly monotone, and I didn't want to play her like that," Davis says. "I decided to give her personality, flair, and sass — also bringing in that villainous, evil side of her." Safe to say, it worked: Every line out of the temperamental doll's mouth became instantly quotable. Davis' personal favorite is M3GAN's response after explaining condensation to Cady (Violet McGraw). "I've started saying 'It's insane, right?' just like M3GAN," Davis says. "That's my favorite line from the entire film. My mom and I say 'insane' more than we ever have in our entire lives now."
The movie's final scene hinted M3GAN may still be alive after wreaking all that havoc, and a sequel is reportedly already in development. Davis can't confirm any M3GAN 2 hype, but she has hopes for her deadly droid's future. "The end left me feeling that there is a potential spark for more, and that's really thrilling," Davis says. "I think there's a lot of opportunity for her, and there's a lot of different directions in which she could go."
Could one of those directions be a slasher crossover with M3GAN's ultimate Twitter troll, Chucky? "She's been in a lot of Twitter wars with certain people, and I think one of those in particular, it would be extra special to see them take it off Twitter and move it to reality," Davis answers tactfully. "My motto for this year is, 'We shall see.' And I think that's where M3GAN's kind of at too."
Below, Davis set the dolls aside to chat about what else is going on in her life right now.
This section has been edited and condensed for clarity.
What's a TikTok trend you're loving right now?
I like playing around with a lot of the filters. And of course, M3GAN's dance is kind of taking over.
Last TV show you marathoned?
I'm re-watching Gilmore Girls. I watched it when I was younger and I don't think I picked up on the majority of jokes that I've been able to pick up on now.
Most-used emoji?
Probably the red heart or the little snarky face.
Movie you've re-watched the most?
The Notebook. I'm a hopeless romantic. One of my goals in life is to be a part of a Nicholas Sparks film.
Who inspires you as a singer?
Carrie Underwood, Megan Moroney, Kelsea Ballerini, and Kacey Musgraves. All the country divas.
Horror movies or rom-coms?
M3GAN will kill me for this, but rom-coms.
Who has your favorite Instagram or TikTok account?
Feed-wise, Hannah Godwin from The Bachelor. She has the most incredible feed ever, and I love watching her and Dylan [Barbour]. On TikTok, I think everybody's been loving Alix Earle lately and her "get ready with me" videos. I'm getting a lot of inspiration makeup-wise from her. She's gorgeous.
Go-to Starbucks order?
It's very odd: a mini lemonade. I'm not a huge coffee drinker.
Most-used app on your phone?
Right now probably Instagram, because I've been getting tagged in different M3GAN things.
Favorite fast food chain?
Chick-fil-A. I really love their waffle fries a lot, and their chicken nuggets do not disappoint.
Go-to karaoke song?
"Girl on Fire" by Alicia Keys.
Fashion trend that you cannot stand?
Those jeans that are ripped in the butt. I have a fear if I would wear those, it would split apart and I'd be done.
Favorite song of the moment?
I've been listening to a lot of Miley [Cyrus] lately. I love some of her old tracks. I just covered "The Climb," so that's one of my forever favorites. I listen to a lot of Morgan Wallen, and also Taylor Swift, of course. To have "It's Nice to Have a Friend" on the M3GAN trailer was mind-boggling to me.
What's your New Year's resolution?
Drink more water and make new friends.