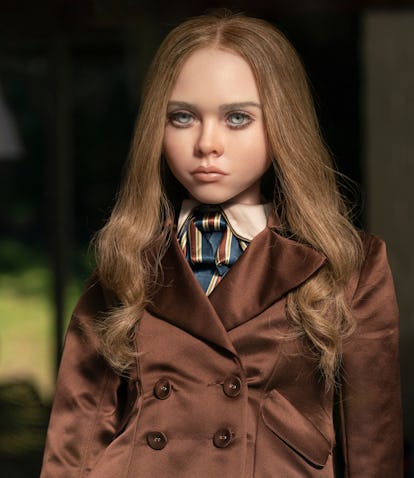 M3GAN 2 Is Coming In 2025
*Busts out in the M3GAN dance.*
Universal Pictures
Don't put away your dolls just yet. After M3GAN dominated the beginning of 2023 with her musical murders, reports quickly arose that the deadly doll would be back to dance and dismember again in a sequel. And apparently, the follow-up went into development right after M3GAN made her big-screen debut. Here's what to know about the next time fans will be seeing their robot bestie in M3GAN 2.0.
Reports of a M3GAN sequel first sprouted up right after the movie his theaters on Jan. 6, 2023, and then they were officially confirmed a couple weeks later on Jan. 18. Titled M3GAN 2.0, the sequel won't be dancing into theaters soon. It will premiere at the beginning of 2025, meaning fans will have to sit tight for two years before reuniting with the deadly doll.
The announcement about a M3GAN sequel shouldn't come as a huge surprise. The creepy doll became the meme queen of the internet at the end of 2022 with everyone on TikTok recreating the unsettling dance number shown in the horror film's first trailer. That virality led to box office success, as M3GAN grossed over $30 million in its opening weekend, more than double what the mid-budget movie cost to make.
Here' what we know about M3GAN's return so far.
M3GAN 2.0 Cast
The sequel announcement also came with confirmation that Violet McGraw and Allison Williams will be reprising their roles as M3GAN's forever bestie Cady and her creator Gemma, respectively. Although strangely not included in the announcement, it also feels safe to assume Amie Donald and Jenna Davis will return as M3GAN's body and voice, respectively.
M3GAN 2.0 Release Date
Mark your calendars: M3GAN will be back to terrorize again on Jan. 17, 2025.
M3GAN 2.0 Predicted Trailer
The original M3GAN trailer set the internet on fire, so expect the same level of viral power when the first footage of the sequel drops. It'll be a bit of a wait for that, though, so you'll have plenty of time to keep practicing your M3GAN moves.
This article was originally published on