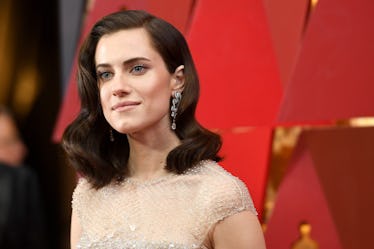 Allison Williams Has A Mysterious New Role In 'Series Of Unfortunate Events' Season 2
Kevork Djansezian/Getty Images Entertainment/Getty Images
Ever since Girls ended, Allison Williams has been making surprise career moves that even her most devoted fans couldn't predict. In 2017, Williams played creepy Rose Armitage in the Oscar-winning movie Get Out, and now, the genre-bending star is moving in an even more surprising direction: She's just signed on to a two season arc in Netflix's A Series of Unfortunate Events. The clean-cut actress seems like an odd choice for Netflix's dark, family friendly (ish) series, so obviously, I'm super curious what role she's going to play in the show. Who is Allison Williams' Series of Unfortunate Events character? Netflix is keeping pretty quiet about Williams' role, but expect her character to shake things up in the Baudelaire universe.
According to Decider, Williams is joining A Series of Unfortunate Events in a "mystery role" — I wasn't kidding when I said that execs at Netflix are keeping details about Williams' character to themselves. While fans don't know anything about who Williams will be playing, we do know that she'll be appearing in both Season 2, set to premiere this Friday, March 30, and Season 3, which is currently filming. In March, Neil Patrick Harris, who stars in the show, confirmed that A Series of Unfortunate Events will end after Season 3, so Williams will get to see the show through to the end.
When Williams' casting was first announced, the official Series of Unfortunate Events Twitter account posted a photo of the actress with the show's kid stars, Malina Weissman and Louis Hynes, who play Violet and Klaus Baudelaire. "Three heads are better than one when facing the particularly perilous," reads the caption. "Welcome #AllisonWilliams to Season 2! Or should we say good luck?" If that caption is any indication, it seems like Williams will be a good guy who helps the Baudelaire siblings defeat Count Olaf (Harris). Season 2 will cover Books 5-9 (The Austere Academy, The Ersatz Elevator, The Vile Village, The Hostile Hospital, and The Carnivorous Carnival), and if the Netflix show follows the novels, there are a few potential allies who Williams could be playing. According to ScreenRant, one strong possibility is Kit Snicket, the author's twin sister who becomes a "recurring ally" for the Baudelaire children in the later books.
With or without the help of Williams' character, the Baudelaire kids will be taking more action against Count Olaf in Season 2. In an interview with TVLine, Harris said that the Violet, Klaus, and their infant sister Sunny have gotten smarter after months of torment:
They're more active because they are out of the fog of dismay and passive upset. Before they were being shuffled; now they realize they have to shuffle themselves… So Olaf is more chasing moving targets as opposed to plotting against static ones.
According to Netflix, Season 2 will include "more villains, more schemes, more peril, more orphans, and more intentional fires." All signs point to the Baudelaires being placed in even worse situations than they were in Season 1 (if that's even possible): Violet undergoes an unnecessary medical procedure, the kids get trapped in a pit with man-eating lions, and Sunny flies through the air like a t-shirt coming out of a cannon at a basketball game. And that's just what we see in the trailer — imagine what Netflix has in store for us in the show itself.
Even though the seven episodes in Season 3 will be the show's last, Harris insists that ending the series after a third season was always the plan. Season 3 will cover the final four books, The Slippery Slope, The Grim Grotto, The Penultimate Peril, and The End, and while these are definitely darker than the previous novels, they also provide fans with a real sense of conclusion for the characters.
It was always the plan to do [just] three seasons, which I really liked. It makes me feel like we're doing a specific piece of art, as opposed to just hoping that the zeitgeist holds us up for as many seasons as people can stomach.
I'm confident that no matter which "mystery role" Williams takes on, the show's writers will give her a satisfying conclusion, as well.
A Series of Unfortunate Events Season 2 premieres on Netflix Friday, March 30.