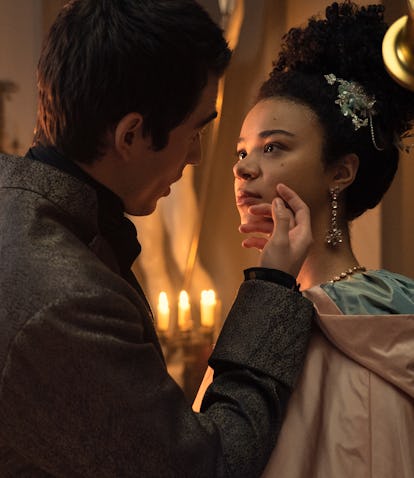 The Most Uncomfortable Queen Charlotte Sex Scenes To Watch With Your Parents
Just keep looking at your phone; it'll be over soon.
Netflix
Queen Charlotte delivered everything a true Bridgerton fan could want: royal gossip, sumptuous gowns, extravagant balls, and of course... tons of steamy sex. There's simply no denying the unparalleled horniness of the Bridgerton universe, but the latest spinoff managed to turn up the heat even more than fans expected. While everyone knows what they're getting into when pressing play on a Bridgerton show at this point, it's still a series families love to dive into together — even if they sit in more than a few uncomfortable silences during choice scenes. And Queen Charlotte definitely went there with these uninhibited sex scenes.
Nobody really knew what to expect from Queen Charlotte and King George's origin story at first. In Bridgerton, the royal couple has only shared a few scenes together, and they were far removed from the insatiable sex scenes that have become a hallmark of the show. But boy, did those horndogs prove all the doubters wrong. Turns out, Charlotte and George couldn't keep their hands off of each other after their marriage, even when they were fighting. The chemistry was so hot that fans even declared the spinoff to be better than Bridgerton.
So, whether you watched alone to relish in the steaminess, or had to pretend something on your phone was suddenly incredibly important if you watched with your family, here are the sex scenes that made Queen Charlotte great, from the worst to the best.
8. Lord Danbury's Cringy Humping
Thankfully, Lord and Lady Danbury's bedroom activities are kept brief, because they aren't easy to watch. At least that is on purpose, though. Lady Danbury has to grit her teeth and dissociate each time her slovenly husband beckons her to bed. It may be sex, but it is the opposite of sexy.
7. George And Charlotte's Pre-Ball Quickie
George and Charlotte are obviously the MVPs of this list, but their final sex scene is surprisingly hurried. Right before their big ball, George and Charlotte squeeze in a quickie. It's still super hot, but is underscored by whimsical getting-ready music and interspersed with scenes of the castle staff setting up for the festivities, so it doesn't really feel like a full-fledged sex scene.
6. George And Charlotte's Dining Room Spectacle
Probably the most erotic moment of the whole show without showing any skin, George and Charlotte's anger at one another swiftly turns into animalistic horniness right in front of their entire staff. The way the two lovers can't even wait a second before pawing at one another on the dining room table will go down in smutty Bridgerton history.
5. Lady Danbury Gets On Top
The most meaningful sex scene of the season goes to Lady Danbury. After suffering terrible (arguably abusive) sex for years, Agatha Danbury finally takes control of her sex life by inviting Violet's father, Lord Ledger, into her bedroom. To fully emphasize Lady Danbury's transformation, she flips Lord Ledger onto his back, claiming the top position. As we all know now, Lady Danbury has been at the top ever since that moment.
4. George And Charlotte's Even Days
Some of George and Charlotte's steamiest scenes come in the midst of their seething indignation for one another, as George pushes Charlotte away to hide his mental illness and Charlotte believes her husband has become cruel and isolating toward her. Despite their ire, they still have an obligation to try for a baby every other day. On their first "even day," the couple simply cannot fight their passion and rip each other's clothes off in the bedroom.
3. Brimsley And Reynolds' Secret Tryst
At long last, there's an LGBTQ+ romance in the Bridgerton world, and it's a seriously hot one at that. While Brimsley and Reynolds having to keep their romance a secret isn't exactly ideal, it does make their clandestine hookups that much naughtier. In their first scene alone together, the two servants undress one another and throw each other around as they discuss the king and queen's marital issues. Clearly, there are no lovemaking problems in the servants' quarters.
2. George And Charlotte's Bathtub Bliss
Only George and Charlotte can make getting clean this dirty. At the height of their "even days," Charlotte barges into George's bathroom on a mission. Without even getting out of his bathtub, George orders his staff to leave the room and Charlotte wastes no time jumping into the water with him. It is quite literally their steamiest hookup of all.
1. George And Charlotte's Honeymoon
There's just no beating the first time. After all the buildup over George and Charlotte finally consummating their marriage, their honeymoon sex is a huge release for both them and every viewer. The royal couple more than proves their chemistry in a minutes-long montage of thrusting and moaning, which you either watch with your full attention, or sweating bullets and counting the seconds while praying your parents won't say something to make the family TV night even more awkward.