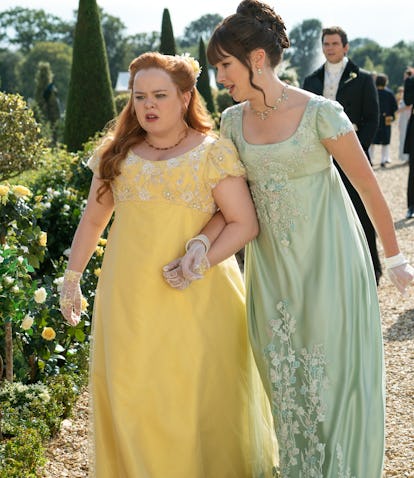 Bridgerton Season 3 Needs An LGBTQ+ Storyline — Here Are 5 Ideas
I can't believe I'm offering these for free.
Liam Daniel/Netflix
There's a lot to love about Bridgerton, from its steamy romances to its over-the-top Regency-era fashion, but let's be real about one thing: The show is severely lacking in the LGBTQ+ representation department. Despite fans' continued hopes and beliefs that at least one of the Bridgerton siblings is LGBTQ+, the show hasn't presented any storylines to indicate this in its two seasons. But that doesn't mean there aren't possibilities for an LGBTQ+ love story in Bridgerton Season 3.
Bridgerton is pretty progressive compared to most Regency romances. The series eschews historical accuracy in favor of inclusivity. The world of Bridgerton is racially diverse, even in ways that aren't necessarily realistic for the time period. But that expanded representation makes the show all the better, especially since it allows for more of the audience to see themselves on screen. But when it comes to LGBTQ+ representation on Bridgerton, audiences are left with... pretty much nothing. For a series all about romance, it's pretty disappointing that only straight romances are showcased.
Season 3 of Bridgerton could go in a variety of directions, and many fans are hoping at least one of those directions is an LGBTQ+ storyline. The show has already strays from the plots of the source novels in major ways, so the show might as well change things up even more by bringing some LGBTQ+ representation to the screen. In case anyone at Netflix is reading this, here are just a few ideas to use:
Seasons 1 and 2 of Bridgerton are streaming on Netflix.