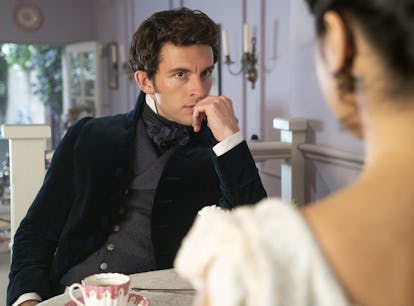 10 Major Differences Between Bridgerton Season 2 And The Book It's Based On
Like, the show went wayyyy off track.
Liam Daniels/Netflix
Although Bridgerton Season 1 made significant changes from the original novel, the show stayed true when it came to Daphne and Simon's story and all its messy glory. But the differences between Bridgerton Season 2 and The Viscount Who Loved Me are far starker. Warning: All of the spoilers for Bridgerton Season 2 follow, and quite a few from the book as well.
The Viscount Who Loved Me introduces arguably one of the best heroines in all of author Julia Quinn's Bridgerton universe, Kate Sheffield. At age 28, she's a veteran of the wallflower scene, having not secured a husband during her debutante years due to her father's passing. The family lives in genteel poverty, which puts a lot of pressure on Kate's younger sister, Edwina, who has just reached marriageable age, to find a wealthy husband. Edwina is all the things Kate is not: demure, obedient, and innocent. She's determined to marry well to support her widowed mother and spinster sister.
But there's one wealthy suitor Kate will not allow to court Edwina: Anthony Bridgerton, a notorious rake she knows has been breaking women's hearts across London for a decade. But Anthony is determined to get himself engaged to Edwina, despite how attracted he is to Kate... until a compromising position forces him to marry the older sister anyway.
It's a pretty simple story, yet the show makes major changes to it. Let's dig into all the big differences.
Bridgerton Seasons 1 and 2 are now streaming on Netflix.