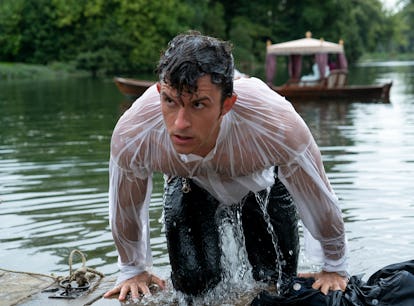 Here Are The Hottest Sex Scenes In Bridgerton — You're Welcome
Consider this your ultimate guide.
Liam Daniel/Netflix
There's a lot to love about Bridgerton. The costumes, the locations, the period piece setting, the romance…and the — ahem — things that happen when the romance gets going. Season 1 of the series made it very clear this was not the usual chaste fade-to-black romances of yesteryear; it was putting the "bodice ripper" part of the novel front and center. That continued in Season 2, too, making Bridgerton the go-to destination for hot sex scenes on Netflix.
Warning: Spoilers for Bridgerton Seasons 1 and 2 follow. Based on the novels by author Julia Quinn, Netflix's Bridgerton series falls firmly into the "Regency romance" genre, which is not like your usual mainstream romance. Set in the 1810s, during a time of super strict social mores, these are romances set during an era in which women having ~relations~ outside of wedlock was grounds for ostracism, especially if you were from a noble household, and brides were supposed to be virginal.
On the one hand, it means there's a lot of delicious sexual tension, but on the other, it means the characters are usually quick to the altar, so the bedroom fun can really begin. This is true of both Bridgerton Books 1 and 2. In Book 1, The Duke and I, Daphne and Simon are wed by Chapter 13 (out of 21), and in The Viscount Who Loved Me, Anthony and Kate are married by Chapter 16 (out of 22).
Season 1 stuck faithfully to this formula, much to the shock of viewers. It even included all the post-marital sex, even the non-consensual sex between Daphne and Simon in Episode 6. But for Season 2, the series decided to take things far more mainstream and kept the lovers apart until the end of the penultimate episode and unmarried until the finale, leaving a lot less time for onscreen playtime.
Nevertheless, both Season 1 and Season 2 had some very steamy sex scenes. Here they are:
Bridgerton Seasons 1 and 2 are now streaming on Netflix.
This article was originally published on