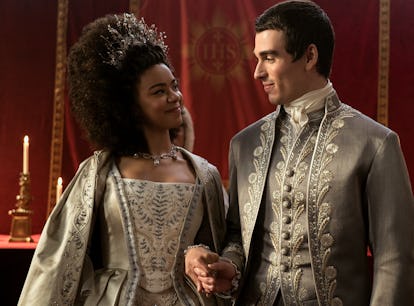 Bridgerton Fans Think The Queen Charlotte Spinoff Is Better Than The Main Show
The Charlotte and George romance just can't be beat!
Netflix
Just when you thought Bridgerton couldn't get any better, the queen turned up the heat even more. Queen Charlotte, a six-episode prequel series that tells the backstory of Bridgerton's gossip-loving queen, premiered on May 4, and although fans were holding the show to a high bar going in, the miniseries exceeded everyone's expectations. Now, the fandom seems to be in agreement that Queen Charlotte is better than the main Bridgerton series.
While Queen Charlotte does play a pretty pivotal role in Bridgerton, she's mainly been on the sidelines either offering some comedic relief or pulling the strings of each social season. But in Queen Charlotte, she finally got her spotlight. The miniseries jumps back half a century from Bridgerton's time to tell the story of how Charlotte became queen. Charlotte was a German girl who was basically sold to King George by her brother. At first, she understandably hated the arrangement, but quickly fell for George's charms upon meeting him... only to then become convinced that he hated her due to his erratic behavior.
It's a classic Bridgerton love story, but one that viewers found themselves even more attached to than Daphne and Simon's or Anthony and Kate's in Bridgerton. Shortly after the series premiered, Bridgerton fans were admitting that they thought Queen Charlotte stood above both Bridgerton seasons that preceded it.
While wardrobe, writing, and plot were all cited as reasons for Queen Charlotte's crowning as the best Bridgerton story, the main factor was obviously the chemistry between Charlotte and George. In Bridgerton, the relationship between the older versions of Charlotte and George hadn't been explored too much, with Charlotte's main concern being to keep her husband safe amid his struggles with dementia. But in Queen Charlotte, their love story is steamy, twisted, tragic, and beautiful all at once. Obviously, shippers couldn't get enough of them.
And maybe, just maybe, the Queen Charlotte craze doesn't have to end yet. Although it was released as a limited series, the show's stars as well as creator Shonda Rhimes have all expressed interest in possibly making a Season 2. That's still up in the air, but at least fans can look forward to seeing Queen Charlotte and King George again (and in a whole new light) when Bridgerton returns for Season 3.