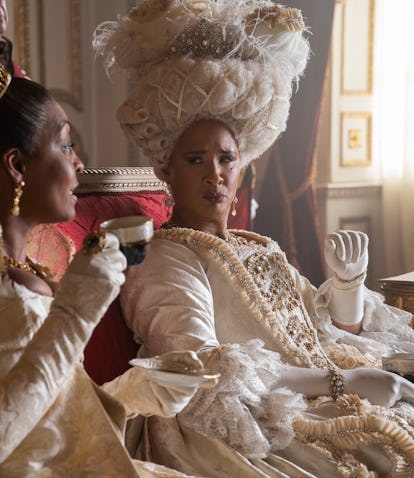 5 Theories About Queen Charlotte's Bridgerton Prequel
The internet has thoughts.
Netflix
The success of Bridgerton has been one of the most significant bright spots of the early 2020s for Netflix. Not only is the series already greenlit through Season 4, but also, a limited series prequel is also on the way. The new series will focus on Queen Charlotte, who Golda Rosheuval plays in the main series, and will tell her love story with King George. But beyond that, not much is known about the show. Theses theories about Queen Charlotte's Bridgerton prequel range from historically accurate to dreamy romance.
Queen Charlotte, IRL consort to King George III, is not a character in the Bridgerton novels. Her inclusion has been one of the series' most ingenious additions. She was the closest thing to a reigning monarch during the time the first three books are set. King George, her husband, had been declared unfit for the throne but was still alive, so their son, the future George IV, was named Prince Regent, with his mother caretaking the monarchy until her husband passed.
But most people do not know Queen Charlotte's backstory. Americans only know King George as the monarch from which the U.S. declared independence (and perhaps a few of his earworm ditties from Hamilton). This is a chance for Shondaland to put its own stamp on the Bridgerton universe while telling an under-served story at the same time.
Here are some theories about what it'll be like.
Bridgerton Seasons 1 and 2 are streaming on Netflix. The untitled Queen Charlotte prequel has begun production.