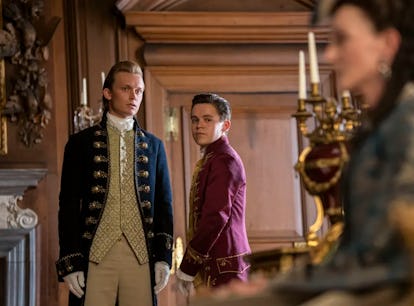 Shonda Rhimes Debunked That Depressing Queen Charlotte Fan Theory, Thankfully
OK, back to happy-crying instead of just crying-crying.
Netflix
Because Queen Charlotte is a prequel series, viewers have the unique experience of already knowing what happens to each of its main characters — we've already seen what becomes of Charlotte and George relationship, and Lady Danbury's current social standing in Bridgerton. But there is one mystery that a half-century flash-forward didn't solve. What happened to Brimsley and Reynolds' romance? A lot of fans assumed Reynolds had died at some point after the events of Queen Charlotte, but thankfully, creator Shonda Rhimes cleared up that depressing theory.
Reynolds is a completely new character introduced in Queen Charlotte, unlike most of the rest of the main cast, who are younger versions of characters fans already know from Bridgerton. As King George's loyal servant, Reynolds is thrown together with Queen Charlotte's right-hand man, Brimsley. The two share a clandestine love affair, marking the Bridgerton universe's first LGBTQ+ romance (you had your chance, Benedict, but you blew it!).
The romance is sweet, but it also raised a big question — why is this the first we're hearing of Reynolds? Brimsley has appeared by the queen's side throughout Bridgerton, but Reynolds never showed up or even got mentioned in the core series. Adding to the worry was one of Brimsley's final scenes in Queen Charlotte, where a flash-forward to Bridgerton-era showed Brimsley dancing by himself. It seemed to be an indication that Reynolds had died, and Brimsley was mourning his old dance partner.
But thankfully, that's not the case. Rhimes confirmed on her Shondaland website that Reynolds is alive in the Bridgerton timeline. "A lot of people ask me, 'Is Reynolds dead?' Reynolds is not dead," Rhimes said. "There's a lot more I could write about that. It was sexy, and it was fun, and it felt very romantic to watch them also have a very real complicated love."
So, what was with Brimsley's solo dance? Rhimes' answer to that is a bit harder to unpack: "I thought the idea that service takes over was really interesting. When you see Brimsley alone, that's what that's supposed to convey," she said. Could that mean that Brimsley had to make a choice between serving Queen Charlotte and running away with Reynolds, and he chose the queen over his love? Hopefully, this will be explored further in Bridgerton Season 3, because fans need answers.