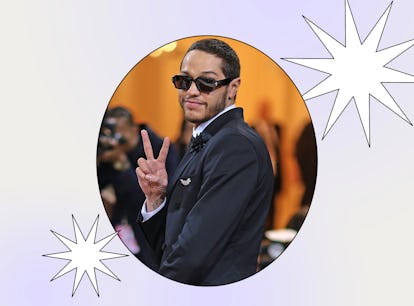 Pete Davidson Doesn't Believe His BDE Hype
According to him, he's packing just enough.
While some celebrities naturally have "the sauce," there's a select few who ooze its naughtier counterpart: BDE, or big d*ck energy. Originally coined on Twitter, BDE describes those who exude a certain level of confidence. That person (who can be a man or woman) can command a room with ease, coming off as someone who's self-assured enough to be intriguing and not egotistical. But while the phrase suggests that someone with BDE would have the package to prove it, Pete Davidson believes he doesn't live up to the title.
On Apr. 13, Davidson appeared on The Breakfast Club to promote his new semi-autobiographical Peacock series, Bupkis. Being that Davidson's BDE title has plagued much of his reputation in the dating scene, host Charlamagne tha God asked him if he ever considered referencing that in the series.
"I don't understand. It's really not that special. It's a very normal-sized penis. It's not too big or too small. Yeah, I don't understand that," Davidson said. "It's big enough to enjoy and not big enough to hurt, is what I was told."
The curiosity about Davidson's package size began in 2018, when he was engaged to Ariana Grande. At the time, the singer was gearing up to release her Sweetener album, and a fan on Twitter asked how long her track named after Davidson would be. In the since-deleted tweet, Grande jokingly said "10-inches," hinting that her then-beau was well-endowed.
The duo called it quits in October of the same year, which was unfortunate considering how much a bop "Pete Davidson" actually is. Their breakup didn't stop Grande from shouting him out in her "Thank U, Next" music video, where she referenced his size again in her Mean Girls-inspired burn book.
Davidson's BDE reputation eventually caught the eye of Kim Kardashian, who seemed just as curious about his *vibe* as the rest of the world. The two met when Kim hosted Saturday Night Live in October 2021; she admitted on The Kardashians that she "heard about his BDE" before she met him on SNL, and their brief kiss in the Jasmine and Aladdin sketch piqued her interest.
"I wasn't even thinking, 'Oh my god, I'm gonna be in a relationship with him,'" she admitted. "I was just thinking, 'I heard about this BDE, I need to get out there.' I was just basically DTF."
After reportedly nine months of dating, the two broke up in August 2022. Contrary to Davidson's belief, he's still holding the torch in the hall of BDE fame.