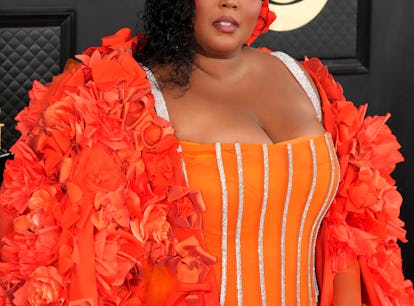 Sorry, Chris Evans: Lizzo Has Her Eyes On Her New Man
According to her, he's "fine as hell."
Jeff Kravitz/FilmMagic, Inc/Getty Images
Lizzo and Chris Evans' once flirty interactions still live rent-free in my mind. In 2021, the "Grrrls" singer made her crush on Evans known on social media, and her admiration of him read like a chaotic fan-fiction. Let me give a quick synopsis. That year, she revealed she drunkenly shot her shot with him in an Instagram message, he graciously responded with a kiss-face emoji, and then the two jokingly confirmed they were expecting a little Captain America. Now, the heat's cooled off from their jokes, as they both went IG official with their separate partners in the last year. With this new relationship update, Lizzo has one request: Stop bringing portraits of Evans to her shows.
On May 20, Lizzo shared this demand as a tour highlight on TikTok. The star, who is currently on the road in support of her 2022 Special album, spoke to the crowd about her and Evan's "divorce." She began the video by saying she noticed a fan waving a large cutout of the actor's face in the audience at a previous show. She then paused for a moment, before sharing her thoughts on it.
"I said, 'Okay, public service announcement: Chris Evans is not my man," Lizzo told the crowd. She then gave a shoutout to her real man, Myke Wright, by listing out his full government name. "He fine as hell. And I'm gonna need you to go to the same printer and print my man's face out and bring it to my show, cause I wanna see his fine ass face when I'm onstage."
The fans listened, and by Lizzo's next concert, massive portraits of Wright were seen in the front row. "Look who's here!" Lizzo exclaimed, the camera panning to two fans holding the blown-up cut-outs of her partner. The video then shows Lizzo inviting the fans, Rene and Lucy, on stage for a photo and posing a question about the Wright photos. She asked, "Can I have one? You know, for scientific purposes." OK, now I need to know if she kept one.
Lizzo's declaration for Wright isn't surprising, considering she hard-launched their relationship on Instagram a year after they began dating in April 2022. Before becoming official, the two were friends. They first met in 2016, when they co-hosted MTV's then weekly music series called Wonderland. Now with their pairing front and center, the duo have been each other's dates on the red carpet.
"We're not playing any games with each other anymore. We're very much locked in," she told Howard Stern in December 2022. "This is official. There's nobody else I'm going to be with for the rest of my life." Oh, they're in love love.
With Lizzo's tour slated to end in late July, it seems she'll have plenty of cut-outs of Wright to take home.