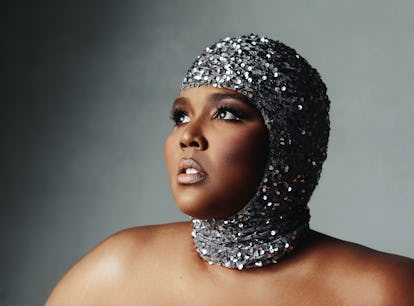 These Lizzo Lyrics Are Perfect For Your Back-To-School IG Captions
"Don't need that energy, b*tch, I'm a Tesla."
Courtesy of Atlantic Records
Lizzo is on a roll. With several recent career highlights like her latest fourth album Special, her No. 1 song "About Damn Time," and her shapewear brand Yitty, it's Lizzo's universe. She's the unofficial queen of feel-good music, though in my eyes it's official.
Nearly every song in her musical roster is a self-affirmation anthem with slick disco-and-pop production, including her legendary hit "Good As Hell" and new standout "2 Be Loved (Am I Ready)." Lizzo's songs aren't just fun and catchy. They're necessary, and they often serve as a true reminder that, even in the darkest moments, I'm still that girl.
In fact, several of Lizzo's lyrics have found a life of their own as self-help proverbs, like "I just took a DNA test, turns out I'm 100% that b*tch" off "Truth Hurts" and "In case nobody told you today, you're special" off "Special."
As the school year arrives with students returning to their high school hallways or heading off to college, Lizzo's lyrics are the perfect mottos to remember in this time of change. So here are 20 Lizzo lyrics for your back-to-school Instagram captions that will remind all your classmates you are the main character today and all days.
"Hi, motherf*cker, did you miss me?" — "The Sign"
"Don't need that energy, b*tch, I'm a Tesla." — "The Sign"
"If you're lookin' for the sign, b*tch, I'm it." — "The Sign"
"'Cause you're beautiful and smart, f*ckin' talented." — "I Love You B*tch"
"In case nobody told you today, you're special." — "Special"
"B*tch, get dressed, un-stress yourself." — "Everybody's Gay"
"We on demon time until tomorrow mornin', ooh-wee." — "Everybody's Gay"
"Welcome to my body, I know it's nice to meet it." — "Naked"
"I've learned to love me as myself." — "If You Love Me"
"If you love me, you love all of me. Or none of me at all." — "If You Love Me"
"Dancin' to no music just feels right with you." — "Coldplay"
"That's my girl, we CEOS, and dancin' like a C-E-ho." — "Grrrls"
"It's bad b*tch o'clock, yeah, it's thick-thirty." — "About Damn Time"
"I'm way too fine to be this stressed, yeah." — "About Damn Time"
"I work my femininity, I make these boys get on their knees." — "Like A Girl"
"I know I'm a queen, but I don't need no crown." — "Soulmate"
"Thick thighs save lives, call me little buttercup." — "Tempo"
"Wanna put you on a plane, fly you out to wherever I am." — "Cuz I Love You"
"I be drippin' so much sauce, got a bih lookin' like RAGÚ." — "Juice"
"No, I'm not a snack all, look, baby I'm the whole damn meal." — "Juice"
"I'm like chardonnay, get better over time." — "Juice"
"I just took a DNA test, turns out I'm 100% that b*tch." — "Truth Hurts"
"I don't get dehydrated, I moisturize it daily, I am my inspiration." — "Water Me"
"Patiently, quietly, faithfully, worship me." — "Worship"
"You know you a star, you can touch the sky." — "Good As Hell"
"Gotta take a deep breath, time to focus on you." — "Good As Hell"
"So much Prada on me, I'm a Pradagy." — "Scuse Me"
"I don't see nobody else, 'scuse me while I feel myself." — "Scuse Me"
"I got an A in self-esteem." — "En Love"
"It's your beauty, they can't have it." — "My Skin"