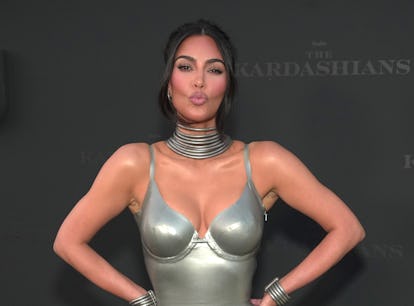 Kim Kardashian Wasn't "Planning" On Dating Pete Davidson
She opened up to Today's Hoda Kotb.
Kevin Mazur/Getty Images Entertainment/Getty Images
Kim Kardashian just got so real about her love life. On April 11, the star appeared on Today host Hoda Kotb's podcast, Making Space, where she discussed her whirlwind romance with Pete Davidson.
Kim is currently on a press tour, promoting her upcoming Hulu reality series, The Kardashians that premieres on April 14. Throughout the tour, she's largely played coy about her relationship with Pete, including in of the show's trailers; however, the couple became Instagram official in March, and Kim has since opened up publicly about how she fell for the Saturday Night Live star.
"I think that, you know, sometimes things happen when you just least expect it. It was the last thing that I was really planning on," Kim told Kotb about connecting with Pete.
The couple was first romantically linked in October, following her appearance as a host on Saturday Night Live; however, Page Six reported that Kim says in the premiere episode of her new show that she met Pete a few weeks before hosting SNL.
They met while separately attending the Met Gala in New York City. At the event, Kim reportedly told Pete she was "scared" of hosting the late-night sketch show. "And he's like, 'Can you read cue cards? You're good. You're good,'" Kim said in the upcoming first episode of The Kardashains, per Page Six.
What started as words of encouragement eventually led to one of the most high-profile relationships of the last year. As Kim told Kotb, none of this could've been anticipated. "And so when it did happen, we were kind of, like, 'Oh, my God, I wasn't planning on this. And this isn't even what I was thinking of,' and it just makes it that much sweeter and so much more fun," she said of meeting Pete.
She also told Kotb that Pete is her first notable romantic partner since filing for divorce from West in February of last year. "I took, you know, 10 months or something before I dated or talked to anyone," she said.
According to TMZ, an unnamed source at Hulu said Pete doesn't appear in the first season of The Kardashians; however, TMZ also reported the show was filming at its recent premiere and red carpet, which Pete attended alongside Kim.
It sounds like I'll have to wait months, if not longer, for the show to tell us how Kim feels about her life today. Something tells me we'll have so many more updates on Kim and Pete's relationship by then, and that's just the nature of reality TV.