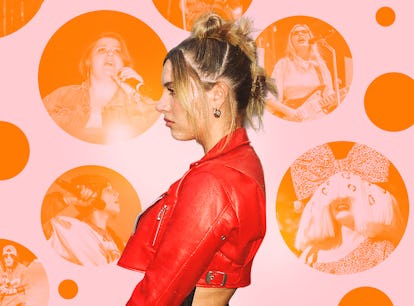 Welcome To Kenzie's Villain Era — It's Sickly Sweet
Her new single is her most experimental release yet.
Lais Borges/Elite Daily; Photo by Nick Vernet; Getty Images
In Elite Daily's series Early Influences, artists reflect on the songs and albums that left a lasting impression on them in their formative years. Here, kenzie shares the artists whose work shaped her sound, and inspired her shift to alt-pop on her new single "Sickly Sweet."
Kenzie's new era just took a dark turn. The rising alt-pop it-girl is more experimental than ever on her new single "Sickly Sweet," a woozy earworm about the allure of a toxic relationship. "I wanted to write about a toxic boyfriend situation where you actually love it in a way," kenzie tells Elite Daily. "Girls always go for the bad guys. I've seen it with my friends, I've experienced it myself. It's a very bad trait, but we all go through it." The edgier sound is part of kenzie's new era, a complete shift from the aesthetic of her Dance Moms beginnings. She credits genre-busting artists like Billie Eilish and Yebba with inspiring her to find her authentic voice, and "Sickly Sweet" has helped her embrace a new alter ego.
"When I'm listening to this song, I feel very bad b*tch," the 18-year-old says. "I was saying, this is for your villain era. It just reminds me of an alter ego of me stepping into that darker side. I named her Vanessa. Vanessa, definitely, is in her villain era."
The process of creating the song mirrors how it sounds. Unlike past releases, kenzie was involved in the production side of "Sickly Sweet" as well as the writing. "We were like, 'Let's just make it really weird. Let's make it a trip,'" kenzie recalls. "It gets into that creepier direction. It was literally pitch black in the room while we were writing and producing it, and we were like, 'This fits the vibe.'"
Kenzie got her start in music with bubblegum kid-pop in her youth. After rising to fame on Dance Moms, a 10-year-old Mackenzie Ziegler released her first album under the moniker Mack Z. "Yeah, forgot about her," kenzie jokes. She used to cringe when her friends or fans would bring up songs like "It's a Girl Party," but she's learned to laugh it off now. "I obviously was not writing my own music, I was too young to even know what I wanted to do, and so I used to cringe," kenzie says. "But now my friends will play it in the car and we'll just laugh hysterically. We just think it's so funny, and it just doesn't even feel like myself anymore."
Now, kenzie feels more herself than ever. As she prepares to reintroduce herself to the world with her upcoming album, she tells Elite Daily about the artists that inspired her bold new sound.
Sia
It's no secret that Sia has played a massive role in kenzie's life. The pop superstar's frequent collaborations with her older sister Maddie Ziegler are iconic. Kenzie remembers being instantly inspired the first time she met Sia on the set of her "Chandelier" music video in 2014. The video heavily featured Maddie in one of the dancer's most memorable roles ever, and to kenzie, the whole thing felt surreal.
"I was just like, 'This is a dream, this is so cool,'" kenzie recalls. "I've looked up to her for so long, but 'Chandelier,' that was the first time where I was like, 'I want to be just like her.'"
Kenzie was just as awestruck by Sia's face as she was by her talent. "It was crazy seeing her in person because she never showed her face. I remember being like, 'I feel like this is really wrong that I'm seeing her face right now.'"
But she quickly got used to it after Sia moved in across the street. Kenzie remembers the Bachelor watch parties she used to have with the superstar. "We would literally walk across the street in our PJs and would watch The Bachelor and 90 Day Fiancé in her movie room," kenzie says. "We would cry, we would laugh, we would scream. It was so fun."
The bond was so strong that Sia became the godmother to Maddie and kenzie, and also became a professional mentor to both of them. While Sia uplifted Maddie's dance career, she simultaneously helped kenzie discover a passion for music. "It's so great having a person in my family that is into music, because my sister and my mom are not," kenzie says. "I send her my songs and she gives me great feedback." The dynamic led to an unexpected collab when Sia was featured on kenzie's 2020 release "EXHALE." "I sent that one to her, [and] she was like, 'Wait, can I be on this song?' And I was like, 'Wait, are you serious?'" kenzie recalls. "She recorded it the next day. It was so crazy to me because I was like, 'You work with my sister and now you want to be involved with me? That's really sweet.'"
Yebba
As for her biggest inspiration at the moment, kenzie can't get enough of Yebba. She credits the genre-jumping singer's music with pushing her to step outside of her comfort zone and explore new sounds. Once she heard "Yebba's Heartbreak," the singer's feature on Drake's Certified Lover Boy, kenzie was hooked. "I remember hearing it and being like, 'She's so good. Who is this person?'" kenzie says.
The song she can't stop replaying is "How Much Can a Heart Take," Yebba's 2021 collaboration with Lucky Daye. "I think all my friends are over it at this point," kenzie admits. "But she's just one of the people that I listen to and I'm like, 'I've never heard this before.' It's very intricate; She definitely pays a lot of attention to the detail in her songs."
Kenzie hasn't been able to meet Yebba in person yet, but she has high hopes for a duet someday... even if she's a bit nervous about fangirling too hard in front of her. "I would want to do a moody ballad with her, something cool-sounding and dramatic. But she's so cool I think I'd be really intimidated to be in the same room as her. I'd be like, 'This is really cool, but I'm scared.'"
Billie Eilish
Upon hearing "Sickly Sweet," there's an immediately clear inspiration. The mixture of glitchy, industrial beats with deeply confessional lyrics is what made Billie Eilish a star, and kenzie has been mesmerized by her for years. "I was maybe 9 or 10 and one of my best friends at dance was friends with Billie," kenzie says. "She wasn't big at the time, but she played me a lot of her music and I was like, 'This is actually so cool. She's going to be huge.'"
Seeing Eilish succeed at such a young age gave kenzie the determination to make her own mark. "She gave me the drive for making music because I was like, 'She can start this young and make it so far. Maybe I can do the same thing.' I look up to her so much."
Even more than that, kenzie credits Eilish with creating the genre she loves so much. "I feel like she was the person that made alternative pop a thing," she gushes. "She's shaped the music industry as a whole now. She's gotten people [to] go out of their boxes."
And although they haven't worked together yet, kenzie did have a sort of unofficial Eilish collab years ago that her fans love to remind her about. "I did a dance class to 'Ocean Eyes' when she was getting huge. My fans still post it. It's very sweet."
Lennon Stella
While Yebba and Eilish may have inspired kenzie's new sound, it was indie-pop darling Lennon Stella who inspired her more personal lyricism. Kenzie credits the singer's relatable and honest music with encouraging her own songwriting. "She makes me feel so much, that's why I wanted to go more in a more authentic route with this album," kenzie confesses. "I never thought I would be comfortable writing a song about growing up without a dad or songs about my past relationships. She definitely helped me with that."
Kenzie has a close personal relationship with Stella. She and her sister Maddie grew up watching the Lennon & Maisy YouTube channel, which Stella ran with her younger sister Maisy. As it turned out, the Stella sisters were big Dance Moms fans, so the two pairs of sisters formed a friendship. "We're all family at this point," kenzie says. "It's so funny, because we are both still fans of each other, so it was really cute."
Because of how close she is with Stella IRL, kenzie is constantly reminded of what an incredible artist she is. "Her music and her as a person can feel so different to me," kenzie says. "I see her as this normal person, but she's also an amazing artist. It can feel like they're two different people. But I've always looked up to her, and she's so underrated."