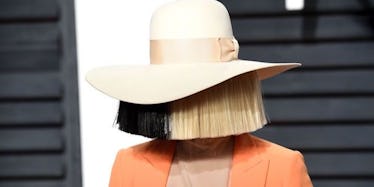 Sia Took Off Her Wig And We Finally Learned What She Looks Like
REX/Shutterstock
Sia can snatch the wigs off her fans every time she releases one of her anthemic pop songs, but she rarely ever takes her own large, face-covering wig off.
But she made a rare exception this week when she showed up at an airport looking totally unrecognizable without her giant black-and-blonde wig!
Seriously, even though Sia has shown her face without her iconic wig before, it's been quite a while and she looks so different now. Tell me you don't look at the photo of her below and first think, "But isn't that a picture of Ellen Pompeo? Or maybe Renée Zellweger?"
NOPE! It's actually Sia! The singer, who usually opts for more avant-garde looks, kept it casual when she walked into the Los Angeles International Airport on Wednesday in a blush-colored sweatshirt and beige sweatpants.
But most surprising is that she made no effort to mask her face, which has become her signature look since becoming a mainstream pop star a few years ago.
Sia has spoken about the reason behind her face-hiding wigs before. On "Carpool Karaoke" with James Corden last year, she said that she chose to hide her face so often because she noticed the thing missing from pop music was mystery.
Another factor that goes into the unique look is Sia's past struggles. She had actually been a moderately successful singer throughout the late '90s and '00s, and suffered a lot from drug addiction and depression during this time.
When she began rapidly gaining fame and success around her 2014 album "1000 Forms of Fear," Sia made the choice to only appear in front of cameras with her face covered, often by a long black-and-blonde wig.
Of course, longtime Sia fans have seen the Aussie singer's face many times before now.
Her older album covers plainly show Sia's face (although normally covered in some sort of colorful arts and crafts), and the singer had not yet adopted her wig when her first breakthrough hit "Breathe Me" was gaining international attention in 2004.
Still, it's always nice to see ya, Sia!