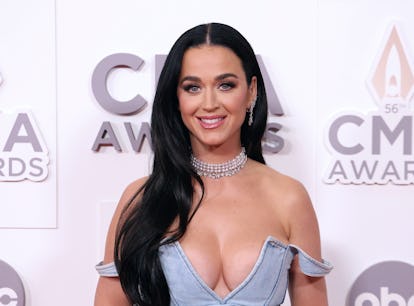 Katy Perry Revealed The Billie Eilish Hit She Regrets Turning Down
"I was like, 'Meh, boring.' Big mistake."
Taylor Hill/FilmMagic/Getty Images
Katy Perry has made a lot of correct choices in the music industry to become one of the biggest pop stars of the 21st century, but she did make one "big mistake" that she still regrets. The pop star revealed that years ago, she had the chance to work with a singer who would go on to become a chart-topping, multiple Grammy winner, but she passed on the opportunity. Now, Perry is getting real about why she regrets turning down Billie Eilish after listening to "Ocean Eyes."
Perry reminisced about an early misstep after she founded her record label Unsub Records in 2014 while at the listening party for her signee Cyn's upcoming album on Jan. 26. The pop star revealed that an agent or manager reached out to pitch Eilish to her as an artist to sign to Perry's new label. But after listening to what would become Eilish's breakout hit "Ocean Eyes," Perry declined to sign her. "She sent me an email one time that was, 'Hey, check out this new artist. I'd really like us to work with her,'" Perry recalled. "It was a song called 'Ocean Eyes,' and it was just a blonde girl. And I was like, 'Meh, boring.'"
Of course, now Perry realizes what a blunder that was. "Big mistake. Huge mistake," Perry admitted.
Eilish first released "Ocean Eyes" on SoundCloud at the end of 2015 as an unsigned artist, which was likely also around the time Perry first heard it. The dreamy love song went on to become Eilish's first major hit, and was re-released commercially when she signed with Interscope Records the next year. She has since gone on to win an Academy Award and seven Grammys, notably sweeping all four major Grammys categories in 2020.
Although Perry didn't sign Eilish all those years ago, there doesn't seem to be any bad blood between the two pop stars. Perry appeared in Eilish's 2021 documentary The World's a Little Blurry and had a sweet exchange with the singer, introducing Eilish to her fiancé, Orlando Bloom.
"My fiancé who doesn't listen to modern music, he'll only play you in the car all the time," Perry told Eilish. Hilariously, Eilish didn't recognize Bloom at first, until her brother Finneas told her he starred in the Pirate of the Caribbean movies. "That guy?! That was him?!" Eilish said. "No way! Bring him back. I want to meet him again. He kissed me on the cheek. I did not know that was him. I thought that was just some dude Katy Perry met."
So, although a working relationship between Perry and Eilish didn't come together, things have definitely more than worked out for both of them.