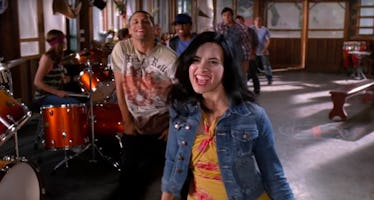 The 18 Most Iconic Disney Channel Original Movies To Watch On Disney+
Your inner child will thank you.
Disney
Rewatching a nostalgic Disney Channel original movie is always a good idea. Whether you're in your feels and need a pick-me-up, or you're in a happy mood and want to keep the good vibes going, these quirky films from the '90s, '00s, and '10s just hit different. Thankfully, Disney+ has a whole stable of Disney Channel original movies to watch, regardless of your mood.
Over the past few decades, the family-oriented cable channel has released a slew of memorable movies. While some are understandably dated by this point, many have managed to withstand the test of time. Filled with magic, monsters, music, mystery, and sometimes all of the above, Disney Channel's films are as multi-genre as they come. And you're bound to find one (or several) to tickle your fancy.
What makes a DCOM truly iconic, you might ask? The answer is simple: consistency. While some may write off the trope of "finding yourself" as clichéd, Disney Channel embraces the concept. Despite following a similar formula every time ("It's not my dream, Dad, it's yours!") these films work because they don't take themselves too seriously. When coupled with unconventional plots — think Smart House, Stepsister From Planet Weird, and Wendy Wu: Homecoming Warrior — and eccentric personalities — like Halloweentown, The Cheetah Girls, and Lemonade Mouth — DCOMs provide a healthy dose of low-stakes drama and sentimental comfort that will never go out of style.
Disney+'s DCOM roster features countless fun flicks that will heal your inner child. Here are 18 of the best Disney Channel original movies to stream now.
1. Halloweentown (1998)
Full of monsters, magic, and mayhem, Halloweentown follows 13-year-old Marnie Cromwell (Kimberly J. Brown) on a journey of sorcery and self-discovery. When Marnie discovers she comes from a long line of powerful witches hailing from a mystical place called Halloweentown, she makes it her mission to learn more about her supernatural heritage by visiting her grandmother. However, upon arrival, Marnie and her siblings encounter dark forces plaguing their family's mythical hometown. The untrained witch is soon forced to confront evil head-on to save her family and the town. Visually stunning and evocative of cozy Halloween nostalgia, Halloweentown is the epitome of comfort.
2. Smart House (1999)
Before Alexa, there was PAT. When high school science genius Ben Cooper wins a state-of-the-art "Smart House" online, his life is turned upside down. To prevent his father from going on dates, Ben programs the computerized home to take on the form of a virtual mother, PAT. However, PAT proves far more clever and conniving than Ben could have imagined. Featuring trailblazing technology, innovative visuals, and a thrilling storyline, Smart House is peak contemporary camp.
3. Camp Rock (2008)
Camp Rock is easily one of Disney Channel's most iconic movies with its star-studded cast, original tunes, and nostalgic summertime feel. Starring Demi Lovato and the Jonas Brothers, the prestigious music camp is full of talent. Unlike most campers, Lovato's character Mitchie doesn't come from a wealthy background. However, when it comes to potential stardom, she'll do whatever it takes to fit in — even if it means lying to the people she loves. What truly makes Camp Rock shine is its message about finding the confidence to stay true to oneself.
4. The Cheetah Girls (2003)
The Y2K 'fits alone are enough to make this film go down in Disney Channel history. Four spunky New York City high schoolers dream of making it big in the music industry — and they'll stop at nothing to secure a record deal. With cheetah-licious choreography and catchy tunes, Raven-Symoné, Adrienne Ballon, Kiely Williams, and Sabrina Bryan give the performance of a lifetime in the first installment of The Cheetah Girls trilogy.
5. High School Musical 2 (2007)
This summery flick produces pure serotonin. Arguably better than the first movie — case in point: Chad and Ryan's undeniable chemistry — High School Musical 2 embodies the sheer exhilaration of summer vacation. From Troy Bolton's passionate golf course performance of "Bet On It" to Sharpay's glamorous poolside "Fabulous," the HSM sequel is full of iconic songs and scenes. Taking place at the lavish Lava Springs Country Club in Albuquerque, New Mexico, the film's setting alone is unforgettable. However, the teenage drama, love triangle, and talent show occurring in this idyllic location set this masterpiece apart.
6. The Luck of the Irish (2001)
Basketball, leprechauns, pots of gold — The Luck of the Irish is wonderfully weird and wacky in all the right ways. Teenage basketball player Kyle Johnson (Ryan Merriman) has always been blessed with exceptional luck. However, when he loses his lucky gold coin, he makes a shocking discovery: He is part-leprechaun. Kyle must do whatever it takes to win back his charm from the thief who stole it, but he learns to live without luck. Unconventional and slightly bizarre, the imaginative plot is an ode to Disney Channel's more experimental endeavors from the early aughts.
7. Cadet Kelly (2002)
Premiering in 2002, a year after the debut of Lizzie McGuire, Cadet Kelly cemented Duff's time-honored Disney Channel career. Laidback city girlie Kelly Collins (Hilary Duff) finds herself at her stepfather's military academy for a lesson in discipline. Upon arrival, Kelly quickly learns she might not have what it takes to thrive as a cadet. However, Kelly is determined to prove herself and earn the respect of her no-nonsense commanding officer, Jennifer Stone (Christy Carlson Romano).
8. Lemonade Mouth (2011)
Lemonade Mouth is the Disney Channel version of The Breakfast Club — with a musical twist. When a group of five freshmen meets in detention, they couldn't be more different. However, they soon discover the one thing that brings them together: music. After forming a makeshift rock band, the members of "Lemonade Mouth" learn to overcome their differences and fight for what they believe. And the cherry on top? Young Hayley Kiyoko — aka "Lesbian Jesus" — in her musical element.
9. The Proud Family Movie (2005)
Inspired by one of Disney Channel's most beloved animated series of all time, The Proud Family Movie was a literal fever dream. Instead of a super sweet 16th birthday party with friends, Penny Proud (Kyla Pratt) is dragged along on an island vacation with her zany family. However, a mad scientist hijacks their tropical getaway and tries to steal her father Oscar's secret multiplying formula.
10. Jump In! (2007)
Corbin Bleu doesn't dance, but he does… jump rope. In tried-and-true Disney Channel fashion, Bleu's character Izzy Daniels in Jump In! is torn between following his father's dreams or his own. A young Brooklyn boxer in training, Izzy agrees to fill in as a fourth member on his neighbor's double Dutch team, and the rest is history. Through jump rope, Izzy learns the importance of taking charge of his life and finds the courage to stand up for himself.
11. Zenon: Girl of the 21st Century (1999)
The costumes and special effects in this film were avant-gardes for its time. Taking place 50 years in the future — 2049 to be exact (slightly horrifying considering we're almost as close to 2049 as we are to 1999) — Zenon: Girl of the 21st Century follows 13-year-old Zenon (Kirsten Storms) and her friends as they navigate life in an orbiting space station. However, when Zenon's mischievous nature gets her in trouble, she is punished by being sent down to Earth. Upon arrival, she learns of an evil villain's plans to destroy her space station home and must do everything to stop them. Fun and futuristic, this 1999 DCOM is as iconic as it gets.
12. Wizards of Waverly Place: The Movie (2009)
For fans of the revered Disney Channel series, a full-length Wizards of Waverly Place movie was a dream come true. During a Russo family vacation, Alex (Selena Gomez) impulsively wishes her parents never met. When her wish comes true, it is up to her and her brother Justin (David Henry) to put their wands together and find a way to reverse the spell. Unexpectedly touching, Wizards of Waverly Place: The Movie explores themes of unconditional love, sacrifice, and family through the lens of a magical adventure.
13. Princess Protection Program (2009)
Carter Mason (Selena Gomez) and Princess Rosalinda "Rosie" (Demi Lovato) are total opposites. Carter is a no-frills tomboy born and raised in rural Wisconsin; Rosie is posh royalty hailing from South America. The unlikely duo is thrown together by chance when Carter's dad rescues Rosie from a coup and disguises her as Carter's cousin via the Princess Protection Program. However, they soon realize that they are not so different after all. A heartwarming film about meeting in the middle, Princess Protection Program proves that the best friendships often take us by surprise.
14. Cow Belles (2006)
Teen pop sensations Aly and AJ steal the show in this absolute gem of a film. To teach his spoiled, out-of-touch daughters a lesson, Taylor and Courtney Callum's father forces the girls to spend the summer working at the family dairy while he embarks on a vacation. Chaos ensues, and it is up to these two work-averse socialites to pull themselves (and the family business) together before it's too late. The melodramatic teen shenanigans and swoon-worthy romance in Cow Belles are vastly underrated but well worth the watch.
15. Twitches (2005)
This mystical Disney Channel original movie starring Tia and Tamera Mowry is just as clever as it sounds. Twin witches Alex and Camryn, separated at birth, unexpectedly reunite on their 21st birthday and find their powers grow stronger when they're together. A tale of magic, danger, and most importantly, sisterhood, Twitches is the perfect Halloween film, though the aesthetics and storyline make it work for any occasion.
16. Stepsister From Planet Weird (2000)
Another of Disney Channel's more outlandish originals, Stepsister From Planet Weird, follows 14-year-old Megan Larson and her soon-to-be stepsister, Ariel, as they join forces to stop their parents from getting married. However, there is an unusual twist: Ariel and her eccentric father, Cosmo Cola, are aliens from another world. At first, Megan will do anything to prevent these unassuming extraterrestrials from joining her family. But as she and Ariel grow closer, everything changes.
17. Teen Beach Movie (2013)
In a clever take on West Side Story, Brady (Ross Lynch) and McKenzie (Maia Mitchell) find themselves in a '60s beach party musical titled Wet Side Story after being swept away by a magical wave. The high-stakes rivalry, upbeat choreography, retro costume design, and an unforgettable soundtrack (ahem, TikTok's viral "Can't Stop Singing" audio) makes Teen Beach Movie feel like an endless summer.
18. Wendy Wu: Homecoming Warrior (2006)
Brenda Song is a total badass in this film. A popular high school student who seemingly has it all, Wendy Wu discovers she is a reincarnated Chinese warrior destined to fight an evil villain. In between running for homecoming queen, Wendy must master the art of Kung Fu to prepare for an epic battle. A lesson about a teenage girl finding her inner warrior, Wendy Wu: Homecoming Warrior, proves that young women can take charge of their destiny and look good doing it.