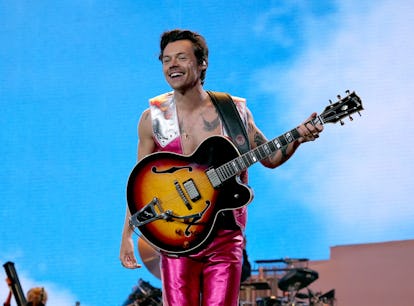 Harry Styles' North American Tour Just Got Even Bigger
My wallet can't handle this!
Kevin Mazur/Getty Images Entertainment/Getty Images
Harry Styles remains booked, busy, and back in North America. On Tuesday, May 24, the star added five more dates in New York City as part of his Love On Tour concert series, meaning he'll now be performing at Madison Square Garden for a total of 15 (!!) shows.
Styles kicked off the North American leg of his Love On Tour concert series back in September 2021 and then finished his performances that November. On May 5, he announced he'll be returning to North America this summer. However, unlike the last leg, which included stops in various cities throughout the United States, this time, Styles will be performing in fewer cities for several nights in a row. Those stops include concerts in Toronto, New York, Austin, Chicago, and Inglewood.
Styles was previously scheduled to perform at MSG for 10 nights throughout August and September, but his latest dates have now bumped that number to 15 shows. Those who are Verified American Express® Card Members can join the presale for the new NYC concerts on Tuesday, May 24, at 5 p.m. ET. Meanwhile, everyone else can purchase tickets during the general sale on Thursday, May 26, at 4 p.m. ET.
Styles' announcement comes as a surprise since the performer has already had a busy year and has so much more planned for the rest of 2022. After performing two headlining shows at Coachella and then covering Better Homes & Gardens magazine in April, Styles unveiled his third studio album, Harry's House, on May 20. That same night, he performed a special "One Night Only" show in Long Island to celebrate the release of his album.
After performing another "One Night" only gig in London on May 24, Styles will tour throughout Europe from June 11 to July 31. He'll then return to North America on Aug. 15 and will perform all over Canada and the U.S. until Nov. 15. This fall, Styles' new movie, Don't Worry Darling, will also premiere.
If you're planning to see Styles on tour, start preparing for his concerts by streaming his latest album below.
This article was originally published on