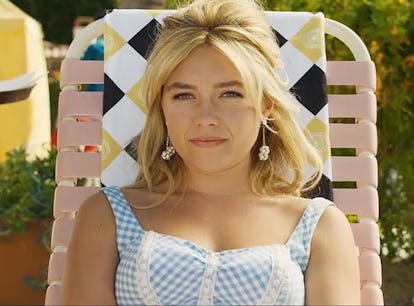 This New Don't Worry Darling Trailer Is Mind-Bendingly Chaotic
The chokehold this film is going to have on me...
Warner Bros. Pictures
When Olivia Wilde released Booksmart, the first film she directed, it was a smash hit. Wilde had already spent a decade in the public eye as an actor, starting from her role in House in 2005. But her success behind the camera brought a new legion of fans. Since her achievements with Booksmart, those fans have eagerly awaited her next project, which was announced in the summer of 2019 as Don't Worry Darling. And the details of the upcoming Don't Worry Darling film, including the casting info and trailer, are even better than anyone could have guessed.
When the Don't Worry Darling script was first put up for auction to production studios in July 2019, it was considered a hot property. A total of 18 bids came in from various studios and streamers, aiming to be the name behind Wilde's next project. At the time, Wilde was also set to star in the film, which Deadline billed as a "mystery thriller for the #MeToo era."
Since then, there have been a few changes. Shia LaBeouf, who was initially set to star, had to pull out of the film, and though Wilde will still appear in it, she is not playing the lead role. But neither of these changes have slowed down the production, which has built an A-list ensemble, led by Florence Pugh and Harry Styles.
Let's run down everything to know about the film.
This article was originally published on