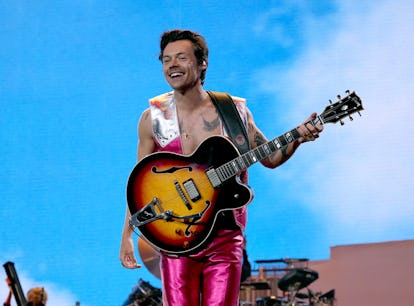 Harry Styles Just Teased The Real Meaning Of Harry's House
His latest interview has fans texting their grandma.
Kevin Mazur/Getty Images Entertainment/Getty Images
The lockdown has influenced so many artists' music over the past two years, and Harry Styles is no exception. On April 26, the "As It Was" singer revealed in a new cover story with Better Homes & Gardens that his upcoming album Harry's House was inspired by his days in isolation these last few years.
"It was the first time I'd stopped since I left my mum's," he said of life in the lockdown.
For the rollout of Harry's House, which drops on May 20, Styles has embraced a cottagecore style. This includes standing in an upside-down living room as his album art, as well as a new Instagram page named You Are Home. Appearing on the cover of Better Homes & Gardens? Well, that's the epitome of domestic bliss.
Styles told the publication he spent many years focused on his career. His experience as a member of One Direction instilled a career perspective of "how do you keep it going and how do you get it to grow?" Styles said this left him "terrified" of One Direction ending because he wasn't sure of his identity outside of music.
It sounds like he's spent the past two years figuring this out. After dropping his second studio album, Fine Line, in December of 2019, Styles said he was supposed to embark on his Love On Tour in April 2020; however, the lockdown led to postponed shows and Styles quarantining in Los Angeles with friends.
There, Styles says he learned to take things easy, focus on his personal life, and open up with those around him. Of course, these experiences influenced Harry's House, which just might be why it has such a nesting aesthetic. "I think everyone went through a big moment of self-reflection, a lot of navel-gazing, and I don't know if there's anything more navel-gazing than making an album. It's so self-absorbed," Styles said.
Better Homes & Gardens also teased what's to come in Harry's House era. They said the album features homey references like "sitting in the garden" and "maple syrup, coffee, pancakes for two." At large, Styles said his album refers to home "in terms of a headspace or mental well-being."
Styles also teased that Harry's House will be his most experimental project yet. He said that he "played it safe" with his eponymous debut album in 2017 but called Fine Line a "freer" experience.
With Harry's House, it sounds like he's enjoying himself even more. "Finally, it doesn't feel like my life is over if this album isn't a commercial success," Styles said. On April 25, "As It Was" returned for a second week on top of the Billboard Hot 100, so it's unlikely Styles will have to worry about his sales anytime soon.
Still, it's good to see he's found a special experience in Harry's House. Here's hoping listening to the album is just as fulfilling as it sounds like it was for Styles to record.