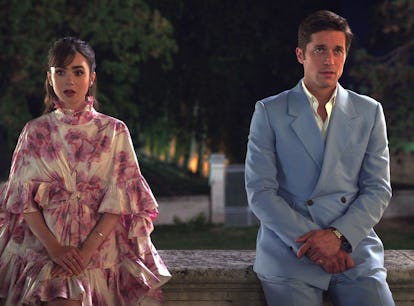 8 Emily In Paris Season 4 Theories
How dare the show leave off on such a cliffhanger?
Marie Etchegoyen/Netflix © 2022
The longer Emily Cooper stays in Paris, the more complicated her life becomes. Season 1 ended with her sleeping with Gabriel before he left the city, only to discover, surprise, he was staying in Paris after all. Season 2 ended with Gabriel and Camille moving in with each other just as Emily decided to act on her feelings for him. But even so, nothing prepared viewers for Season 3's cliffhanger, and these Emily In Paris Season 4 theories are all anyone has to hold onto until the show returns.
Warning: Major spoilers for Emily in Paris Season 3 follow. When viewers discovered Season 3 was going to end with a wedding — specifically Gabriel and Camille's — it looked like any chance Emily had with the French chef was over. Even though she secretly hoped Camille's affair with Sofia would come to light and break the two up, she wasn't willing to be the one to do Camille dirty and rat her out.
Taking the high road had its benefits, as Camille's guilt over her affair — and her tricking Emily into letting Gabriel go in the first place — was apparently eating her up. Even so, she didn't finally break until the wedding was underway, telling Gabriel he and Emily belonged together right there at the altar before fleeing the room.
But it wasn't that simple, despite Camille's best efforts to make amends. Gabriel was marrying Camille in the first place because she was pregnant, and no amount of altar-timed meltdowns would change that they were very likely having a baby.
Here are some possibilities for when things go next in Emily in Paris Season 4.
Emily in Paris Seasons 1 through 3 are streaming on Netflix. Season 4 is expected in 2023.