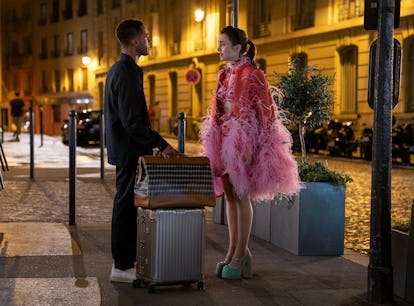 The Vibes Are Immaculate In The Emily In Paris Season 3 Trailer
Emily's making questionable decisions in unquestionably fabulous outfits.
Stéphanie Branchu/Netflix © 2022
Emily's Parisian adventure got even more glamorous in Season 2... until that tricky cliffhanger in the finale. The latest season saw the ex-pat marketing exec partying on the beaches of Saint-Tropez, organizing an opulent fashion show in Versailles, and juggling way too much romantic drama. For the next season, it seems like the glamor (and drama) are only going up from here. Here's what fans should know about Emily in Paris Season 3.
Spoiler alert: This post contains spoilers from the Emily in Paris Season 2 finale. In its second season, Emily Cooper's story was filled out by a new love interest, a big career move, and an even more complicated relationship with her crush Gabriel and his on-off girlfriend, Camille. Over her guilt of sleeping with Gabriel after knowing about his relationship with Camille, Emily distanced herself from him. She started a relationship with charming Londoner Alfie instead... even though she still had feelings for the French chef. In the end, Emily finally worked up the nerve to tell Gabriel she loved him, only to discover he had again gotten back together with Camille. They do have the worst timing, don't they?
Somehow, Emily's career ended even more in flux than her romantic life. The final episode of Season 2 saw Sylvie, Julien, and Luc quit Savoir to start their own firm, which they invited Emily to join. However, Emily is also up for a promotion if she returns to her life in Chicago.
The season ended with Emily calling Sylvie to announce her decision, but viewers didn't get to hear what it was. That cliffhanger makes it pretty clear Season 3 is going to start with a bang.
Emily In Paris Season 3 Trailer
The official full-length trailer for Emily in Paris' third season arrived on Nov. 30, 2022. Fans were treated to a bevy of new fashions from the City of Lights, which Emily managed to make look fabulous, even the questionable ones. Her life choices, on the other hand... well, those are always questionable.
Previously, during Netflix's annual TUDUM event on Sept. 24, 2022, the streamer released the first footage of Season 3. The short teaser shows Emily cutting her own bangs in the aftermath of her stressful decision between Paris and Chicago.
Emily In Paris Season 3 First Look Images
Fans got their first look at Emily in Paris Season 3 on Sept. 22, 2022. Regardless of her decision, Emily will remain in Paris — and her outfits will stay doing the most.
It's not just poolside lounging for Emily, though. She's still working hard — and working some fabulous prints.
Emily In Paris Season 3 Plot
Along with a few new images, Netflix also released an official synopsis for Season 3.
One year after moving from Chicago to Paris for her dream job, Emily finds herself at a crucial crossroads in every aspect of her life. Faced with two very different paths, Emily will have to decide exactly where her loyalties lie — at work and in her romantic life — and what those decisions mean for her future in France, all while continuing to immerse herself in the adventures and surprising twists and turns that life in Paris provides.
Emily In Paris Season 3 Cast
Fans can expect the main cast to return, starting with Lily Collins as Emily Cooper, Ashley Park as BFF Mindy Chen, and Camille Razat as other BFF/rival Camille. Samuel Arnold and Bruno Gouery will return as Julian and Luc; Philippine Leroy-Beaulieu will return as Sylvie; and William Abadie as Antoine Lambert.
Also, Lucas Bravo will return as Gabriel and Lucien Laviscount as Alfie, with Laviscount officially upped to a series regular for Season 3. Since he was only in a recurring role capacity in Season 2, this means Alfie will be an even more significant presence in the new season than expected. Emily's love triangle is about to be messier than ever.
Emily In Paris Season 3 Filming Updates
Netflix announced Emily in Paris Season 3 is a go on Jan. 10, 2022, less than a month after Season 2 premiered. The announcement was extra exciting because Netflix confirmed a fourth season will also happen, putting the show in the rarified air of multi-season renewals like The Crown, Bridgerton, and Heartstopper.
Production on Emily in Paris Season 3 began in June 2022, and filming wrapped at the end of September.
Emily In Paris Season 3 Release Date
Emily in Paris Season 3 will arrive on Netflix with all episodes on Dec. 21, 2022.
This article was originally published on