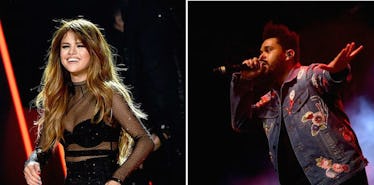 Selena Gomez Singing And Dancing At The Weeknd's Concert Proves She's GF Goals
Getty Images
Selena Gomez and The Weeknd are still going strong.
While it's been just a couple of weeks since the couple made their official Instagram debut on each other's accounts, the lovebirds have been getting cozy in nearly every corner of the world since January.
It hasn't been all play and no work, though. The Weeknd is in the midst of his Starboy: Legend of the Fall Tour, and Selena has proven to be the ultimate girlfriend, cheering him on and supporting him as his number one fan.
Over the weekend, the "Hands to Myself" singer attended The Weeknd's sold-out show at The Forum in Los Angeles, where she danced and sang with a group of girlfriends.
Yep, she knows all the words.
And clearly her friends approve, too.
A concert-goer told ET the former Disney Channel star "seemed to be having a good time with her friends."
The source added,
During the encore she yelled 'yeah babe' to cheer on her man.
Dressed in overalls and rocking her freshly chopped off new 'do, Selena Gomez certainly looks like this new relationship agrees with her.
This is far from the first concert Selena's attended to cheer on her man. In March, she joined him in South America, posting videos of the crowd from her VIP seat at his Brazil show.
In February, she watched him perform on TV, posting a video to Instagram with a heart doodle.
While she hasn't been shy about flaunting her love for The Weeknd to the paparazzi or her hefty social media following, the singer, who went to rehab last year to treat anxiety and depression, isn't ready to talk about it with the media quite yet.
For April's Vogue cover story, the 24-year-old got deeply personal about her fans and her mental health, but basically refused to talk about her new relationship.
Speaking on The Weeknd, she said,
Oh, Mylanta! Look, I love what I do, and I'm aware of how lucky I am, but — how can I say this without sounding weird? I just really can't wait for people to forget about me.
Selena, you don't have to talk about it, but please keep the videos coming. I don't think people are going to forget about you any time soon.
Citations: Selena Gomez Sings Along and Cheers on The Weeknd in Concert (Entertainment Tonight)