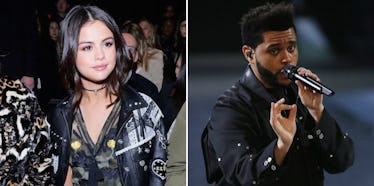 Selena Gomez Posts Adorable Video Of The Weeknd On Romantic South America Trip
REX/Shutterstock
You know what true love is? It's whatever Selena Gomez and The Weeknd have going on, and I want to know their secret immediately.
These guys are stepping into the long-term relationship zone (well, by celebrity standards anyway), and we can't get enough of their happiness.
Selena joined her Starboy for the Brazil leg of his tour. She got VIP access to his show and fangirled the hell out of him.
She posted this adorable Instagram story of The Weeknd's huge crowd, and then of the man himself.
The couple got completely swarmed by thirsty fans at the airport -- probably because The Weeknd tweeted this, so the whole world knew his movements:
Videos on Twitter show the duo trying -- and failing -- to make it through the airport like normal human beings.
Fans were literally declaring their love for Selena, but not so much for The Weeknd. He may as well not be with her because no one cares about this guy when he's got Selena by his side (#bringbackBieber).
And it didn't stop there. Shameless fans gathered outside their hotel to chant because privacy is dead.
I mean, look at this -- it's the definition of crazed! I'm not 100 percent sure, but it looks like this guy may have accidentally ran someone over while a bunch of fans were trying to get into Selena's car.
At least these guys are being patient about it:
Even if it does look creepy AF.
The couple's relationship was solidified last week when The Weeknd finally rid himself of ex Bella Hadid by unfollowing her on Instagram, which, as you know, is shade-throwing of the highest order.
Eagle-eyed Instagrammers then noticed Selena doesn't even follow her anymore. But these unfollows were overdue -- Bella actually stopped following Selena days after those photos emerged of the couple kissing in public.