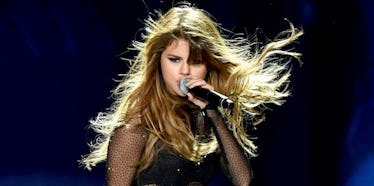 Selena Gomez Chopped Off All Her Hair And Looks Completely Unrecognizable
Getty Images
SELENA GOMEZ IS BALD!!!!
Oh wait, that's Cara Delevingne. Hahaha, I can't keep track of any of this. But Selena Gomez DID cut her hair pretty short!
The "13 Reasons Why" executive producer apparently decided to trade in her long(ish) locks for a feathery bob look, and I'm into it.
Honestly, Selena Gomez could show up to my wedding in a garbage bag with mud and trash juice dripping onto the floor and she'd still look 20x better than me. That's just science.
Here's what the singer looked like before:
She's been rocking this shoulder-length 'do for a while.
And here's what she looks like now:
Guess she was just sick of that same old hair!!! I'm sorry.
Selena isn't the only celeb who has made a drastic change to their hair recently.
As we already know, Cara Delevingne is HELLA BALD now.
Before she went bald (it's for a movie, apparently), she cut her famous tresses into a pastel pixie.
And before Cara's drastic transformation, Katy Perry cut off nearly all of her hair after her breakup with Orlando Bloom.
But it's even shorter now! Right around Coachella, Perry cut the long part of her Miley Cyrus-inspired look in order to rock this new full-on pixie cut:
This picture is literally the best thing that has ever happened to me.
There's actually a shit ton of celebs who drastically changed their hair in 2017. I usually only change my hair when I'm #goingthroughsomething. Haha lol, guess it's time for a haircut!!!
But I'm sure all of these ladies are just trying out new looks and aren't anything like me!!!
OK, moving on. Here are some more celebs who made a huge change to their look this year.
And Chris Hemsworth! RIP Thor's majestic golden 'do.
But it's still not as short as Poot Lovato's.
ALL HAIL THE ALMIGHTY POOT.
Have fun with your new hair, Selena!!!