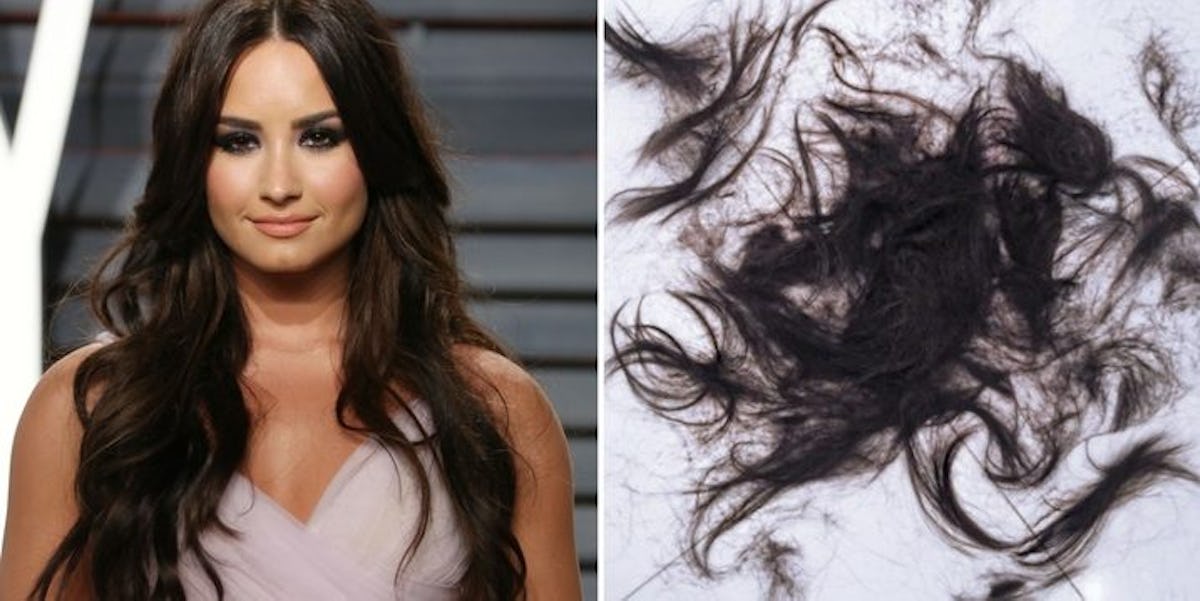 Demi Lovato Cut Off All Her Hair And It's The Perfect Spring Look
REX/Shuttersrock, Instagram
Demi Lovato is already getting cool for the summer with a dramatic new haircut. The singer chopped off her long locks this weekend and revealed her new short 'do.
Now, don't get all worried that Demi pulled a Britney and looks a lot more like Poot than usual (side note: Poot Lovato is bald, right?). She's still got a full head of hair, it's just a lot less than she had before.
I mean, just look at the alarming photo her stylist, César DeLeön, posted while working on the new haircut.
Yikes! Not exactly just a trim...
As a reminder, here's what Demi looked like just a week ago, at the iHeart Radio Music Awards. Her long, brunette hair was straightened and fell about chest-length:
And here's what she looks like now! The singer debuted a shoulder-length, slightly wavy bob at the Kids' Choice Awards over the weekend:
Though Demi's been rocking longer hair for a few months now, her new cut is actually more in line with the style she's become known for in the past couple of years, since the release of her 2015 album Confident.
Up until the release of that album, Demi had always kept her hair relatively long, going all the way back to her Disney Channel beginnings. She shocked fans in the summer of 2015 by chopping her hair off and embracing a more overtly sexual and confident (hence the album title) vibe for her music video "Cool for the Summer."
And Demi Lovato isn't the only superstar to make fans gasp with a major haircut in the past few weeks — it seems like just about all of Hollywood is shedding their long locks in favor of shorter styles recently.
First, Katy Perry went full-on Miley Cyrus by cutting off her long hair and dying it blonde, then Kristen Stewart got really severe up in here when she shocked us all by debuting a totally shaved head. Sinead O'Connor realness!
And it's not just celebrities — even Thor, who we all know is just not Thor without his long golden locks, is apparently going to have short hair in the upcoming "Thor: Ragnarok."
Is long hair officially out??