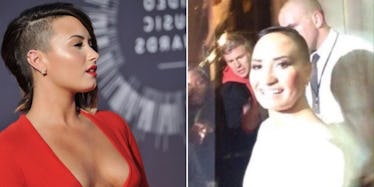 The Internet Made A Crazy Story About Demi Lovato's 'Twin' Named Poot
Getty Images
THIS IS THE SUPER OFFICIAL LOVATO RANKING LIST: 1. Poot 2. Demi 3. Dallas
In early October, a picture and drawing of a mysterious human with the genes of Demi Lovato and the hair of William Hung took Tumblr by storm.
Though it has since been deleted, the post reportedly accrued a ridiculous 75,000 notes in the two weeks it was live.
But recently, the photo started to make its way back into the Internet spotlight thanks to a post by cstcrpt, who claimed the person pictured is actually named Poot.
Poot Lovato.
Is this Demi Lovato's tortured and recently released twin sister whose life apparently is an homage to "Room"? WHO CARES!? THE INTERNET ALREADY DECIDED IT WILL BE THE ONE DICTATING THE LIFE AND TIMES OF POOT.
Of course, people started making memes.
OF COURSE, this was ACTUALLY what Yoncé was talking about.
OF COURSE, Poot's fame reached critical mass.
OF COURSE, there is now an official Poot Twitter.
never cook for me ever again @ddlovato — Poot Lovato (@OfficialPoot) October 22, 2015
send me a dm @kanyewest — Poot Lovato (@OfficialPoot) October 22, 2015
OF COURSE, there's a Poot album coming out soon.
My debut album will feature the anthem "flick it" a reject from my sis demi's album confident. Thanks for the song sis <3 @ddlovato — Poot Lovato (@OfficialPoot) October 21, 2015
Dedicated Pootaholic Kayley Marie Todd has even written a full 10 chapters of Poot fanfiction and posted them to Wattpad.
Here is an excerpt from "The Secret Life of Poot Lovato," which is slated to become a 12-chapter story:
Poot opened her door, grabbed her safecracker tools, and walked to Taylor's house just less than a mile away, knowing no one was home since [Taylor] had a tour going on. She sneaked inside [Taylor's] house, turned on her laptop, and found the folder "1989 Recording Sessions." There were around [40] files in it: the [16] '1989' tracks, and other unreleased material. Finally, Poot opened Spotify and uploaded all the songs, attaching the following message: 'Stream Taylor's entire discography for FREE! Signed: Katy Perry.' Finally, she went inside Taylor's kitchen, grabbed ham, cheese and salad, made herself a sandwich, and ate it while watching the Internet [melt down] over the leak. 'I guess Taylor will have someone more important to sue now,' Poot thought to herself with an evil smirk on her face.
Riveting. Give this girl a Pulitzer.
OF COURSE, others chose to take Poot's story to another more established fictional world.
What did I just make #pootlovato pic.twitter.com/PNkSQjEnzb — Naomi Walters (@naomisfeet) October 23, 2015
OF COURSE, for a few minutes, there was a Poot Wikipedia page (it's since been taken down).
make the world aware #pootlovato pic.twitter.com/zZi4x2lFil — spooky del (@smolcutie) October 19, 2015
Today, we are all Poot.
i stand with poot lovato — oshiin (@jonasocean) October 22, 2015
honestly i am poot lovato — melanie ann (@melaniegreeneee) October 13, 2015
POOT LOVATO pic.twitter.com/ylkqfNBOPf — carls (@carliebyrne) October 13, 2015
Citations: Poot Lovato: has the internet discovered Demi's secret sister? (The Guardian)