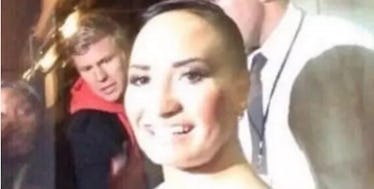 Demi Lovato Brought Poot Back To Twitter And The Memes Are Amazing
Tumblr
Oh, you didn't you know? Demi Lovato has an estranged twin sister.
No, seriously, her name is Poot Lovato. According to a magical digital world called Tumblr, "she was locked in a basement her whole life" and has only taken one photo over the course of her existence.
OK, OK, fine...
By now, you've probably caught on to the fact I'm totally joking. The 24-year-old singer doesn't really have an estranged twin sister named Poot.
However, Poot Lovato does hold a special place in Demi's heart. Thanks to the internet, Poot Lovato was born a hilarious meme originally posted on Tumblr.
And Demi HATED her.
Tumblr user Cstcrpt shared the meme back in 2015 along with the caption,
Demi's twin sister. She was locked in a basement her whole life. This picture was taken the first time she went outside. Her name is Poot.
After two long years of Demi Lovato choosing to ignore her fan-made twin sister, it seems she's finally embracing the now-famous Poot meme.
Meet Poot Lovato, Demi Lovato's "twin sister," according to Tumblr user Cstcrpt.
Someone even created this hilarious Wikipedia description for her.
After spreading around the internet like wildfire, fans began making their own memes featuring Poot.
One fan even drew this masterpiece of her... Yikes!
Back in 2015, Demi wanted nothing to do with the meme. As a matter of fact, she was pissed it even existed.
Two years later, though, the 24-year-old singer seems to be embracing her long lost twin sister.
On Tuesday, she shared this GIF, proving she has no hard feelings against Poot Lovato.
It's official. She finally let her out of the basement.
Let the memes begin (all over again)!
#PootIsBack
In response, fans couldn't help but share their own Poot memes.
With Demi's full support for Poot, it's only right...
There were a few fans who didn't care much for the return of Poot Lovato, though.
They just want the album.
Have patience, people! For now, let's just be happy we finally have Poot back in 2017.
Congratulations to Demi Lovato for finding a small nook in her heart for little ole Poot despite the fact it took two whole freakin' years.
She deserves sunlight just like the rest of us, you know...
LONG LIVE POOT!
Citations: Demi Lovato Has Finally Freed Poot (BuzzFeed)